Buildings
---
UA Building History Highlights
---
An Idea Formed
The location of Alaska's land grant college was selected by one man, rather than by its legislature. He was the legendary James Wickersham, the foremost public figure on the Alaskan scene during the first third of the 20th century.
On July 4, 1915, Judge James Wickersham placed a cornerstone on vacant land where the Bunnell Building now stands on the UAF Troth Yeddha' campus, to designate the site for the Alaska Agricultural College and School of Mines. Although there were no plans to attach the stone to a building, Wickersham wanted a physical location established before the Legislature convened. He had no legal right to dedicate anything, since the college didn't exist, but Wickersham recognized the need for a symbol in those early years of the university.
---
Old Main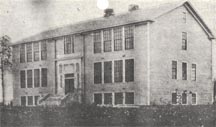 With funds provided by the Territorial Legislature, the Main College Building was constructed and equipped. It was a two-story frame structure 83 feet long by 52 feet wide with a basement 11 feet high under the entire building. The floor of the basement and the walls up to a height of 5 feet were of solid concrete. The basement contained the heating and electric light plant, rooms for the engineer, two laboratories and stock rooms, and two rooms for domestic science. On the first floor were the President's office, library, two cloak rooms and four class rooms. On the second floor were the assembly hall and six class rooms.
A University Born
On opening day, September 18, 1922, six faculty members, in addition to President Bunnell and his secretary, were on hand to greet the six students who enrolled. Late arrivals brought the total to 12 for the first semester.
---
Progress over the Years
| | | |
| --- | --- | --- |
| | Sept 1922 | 2020 |
| Facilities | 1 | 397 |
| Students | 12 | 22,044 |
| Faculty & Staff | 8 | 5,057 |
Serving the needs of UA students throughout Alaska, from urban centers to rural villages, requires a wide variety of facilities. The facilities operated and maintained by the University of Alaska include instructional facilities, research, laboratories, dormitories, dining halls, recreational centers, academic and administrative offices, as well as power plants and water treatment plants among others.