Benefits Study
June 2019 - Results
The University also completed a benefits package value comparison to those of peer higher education institutions and the State of Alaska. Recognizing that, on average, the cost of healthcare is higher in Alaska an external consultant normalized the value cost of the University's healthcare and retirement plans to those in the rest of the country. The analysis concluded that the University Optional Retirement Plan (ORP), and UA Choice Healthcare Plan have above average value compared to other higher education institutions. The UA Pension Plan was below average compared to other higher education institutions. The amounts for supplemental life and accidental death & dismemberment insurance were inadequate. In response, the maximum amount for both was increased this year.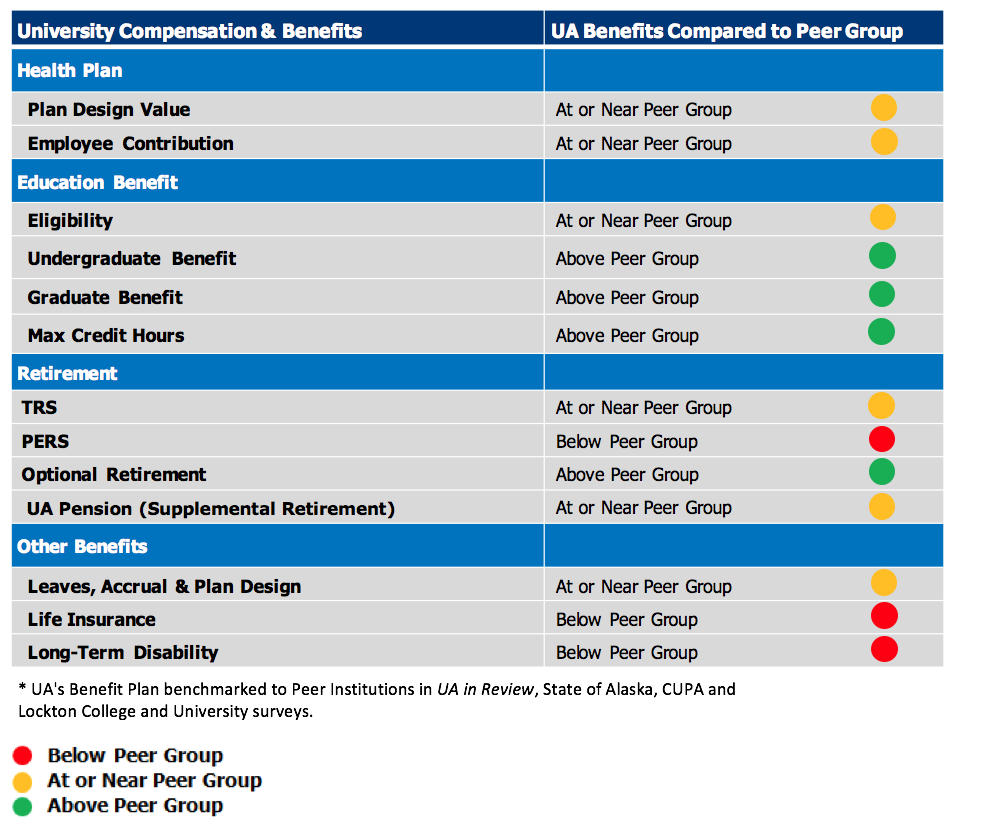 Where we are:
The peer analysis has been completed
What we know:
Overall UA benefits are competitive except in:

Voluntary employee life insurance (low maximum, no dependent life)
Long term disability (low maximum benefit)
UA Pension (supplemental retirement)
PERS retirement
Next steps:
Consider additional voluntary benefits
Analyze cost impact to improve market competitiveness
Methodology and Survey Sources
UA worked with Lockton to benchmark the Benefit Plan against the following peers:
University of Alaska Peers

Montana University
Southern Illinois
University of Maine
Idaho State
University of Colorado
University of Hawaii System
University of Houston
University of Iowa
University of Massachusetts
University of Missouri
University of Nebraska
University of Idaho
Eastern Washington University
University of Nevada - Las Vegas
Montana State University
University of Nevada - Reno
University of Oregon
Colorado State

State of Alaska
2018 CUPA Survey PPO & HDHP
Lockton University and College Benchmarking (17 Universities)
Staff Salary FAQ
Yes, we compared to the State of Alaska, as well as 18 University Peer Groups, the Lockton University and College benchmarking for CDHP and PPO Plans (utilizing 17 universities), and the 2018 College and Universities Professional Association (CUPA) survey.
While not all employers that opted out of Social Security offer a supplemental plan, those that do offer a more generous plan. The UA Pension Plan salary cap has not kept up with salary increases and increases in the Social Security wage base over time.