Coalition of Student Leaders
The Coalition will meet next on Thursday, Oct. 15, 2015, from 6:00 p.m. to 7:30 p.m.




For more information, contact Morgan Dufseth at

mdufseth@alaska.edu or
907-450-8042.
The Coalition of Student Leaders consists of student government representatives from the University of Alaska campuses and portrays the diverse scope of student affairs and needs.
The Coalition provides a forum for student expression while fostering dialogue with faculty, staff, administration, state legislature and communities of Alaska.
The Coalition promotes the educational needs, general welfare and rights of all University of Alaska students, and functions as an advisory group to the UA president and Statewide administration on student issues.
Coalition of Student Leaders October 10, 11, 2014 Retreat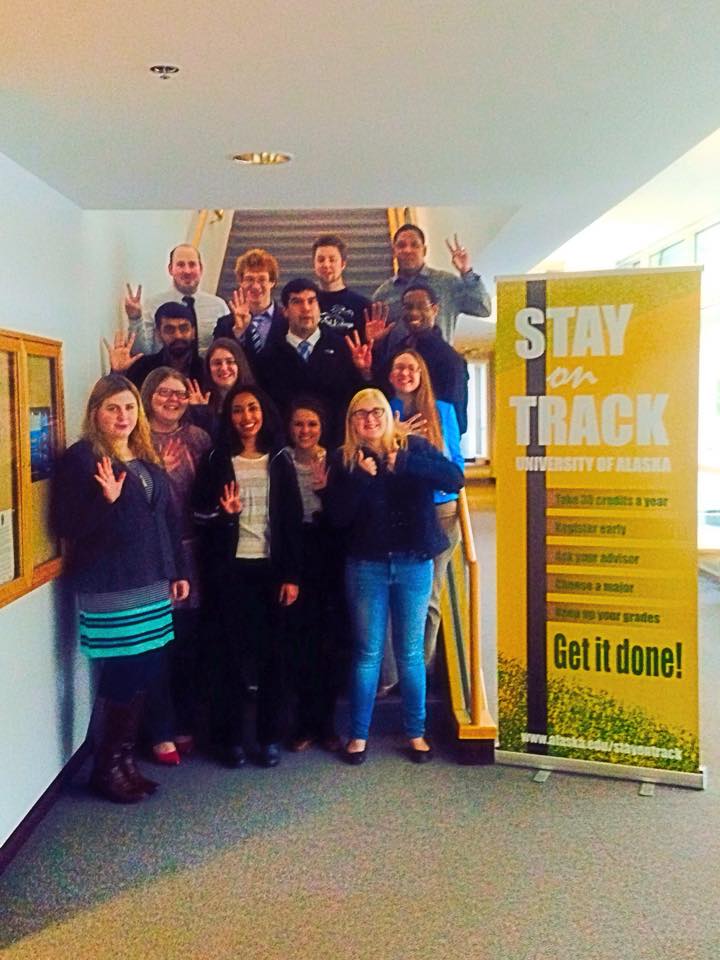 Coalition Chair
Mathew Carrick, USUAF President
---
---
---
Is Your Campus Represented?
Numbers state the total attendance of voting members out of all the meetings held so far this year. (e.g. 2 out of 6 = 2/6)
UAA Student Governments:
Union of Students of UAA - 1/1
Kachemak Bay Branch Student Association - 1/1
Kenai Peninsula College Student Union - 1/1
Matanuska-Susitna Student Government Council - 1/1
Prince William Sound Community College Student Association - 0/1
Kodiak College Student Association - 1/1
UAF Student Governments:
Associated Students of UAF - 1/1
Bristol Bay Campus - 0/1
Kuskokwim Campus Student Government - 0/1
UAS Student Governments:
United Students of UAS-Sitka - 1/1
United Students of UAS-Juneau - 1/1
United Students of UAS-Ketchikan - 1/1
Ex Officio Members (Non-Voting)
Student Regent - 1/1
Student Commissioner - 0/1
updated Oct. 5, 2015
---