UA President's Spotlight Award
The UA Spotlight Award recognizes UA System employees and teams who perform above and beyond the norm. The Award is a way to timely demonstrate appreciation for one-time exceptional employee accomplishments. Supervisors are encouraged to nominate staff below the level of senior administrator who have gone above and beyond in their service to the University of Alaska and their community. Specific instances of exceptional work, safety, efficiency, waste reduction, energy conservation, community involvement, accreditations, endorsements, professional achievements and other work that helps the university meet strategic goals and help shape Alaska's future may be proposed anytime throughout the year. READ MORE
The award, developed to recognize Statewide staff for exceptional accomplishments, includes a special plaque and gift certificate.
Nominate Statewide staff using the Spotlight Award Nomination Form.
Award Recipients
Emery Johnsen
Service Spotlight
Emery Johnson was recognized for the essential support role she provides for the President's Office. She provides administrative support including travel and purchasing for the President's Office, which often involves short notice, cancellations and itinerary changes. Johnsen serves as backup to the president's executive assistant. The nomination notes "this takes confidence, good judgment and organization, all traits Emery possesses." In addition, she is backup support for University House which sometimes entails early mornings and weekends. "Emery does all this with a smile, while keeping up with her studies and her responsibilities as the executive assistant to the CITO. That is admirable."
Carrie Crouse
Service Spotlight
Carrie Crouse was recognized for the critical assistance she has provided by taking on management of University House. The building transitioned this past year from a residence to a rental facility and Crouse has taken on the additional responsibility of managing the facility. Crouse ensures the rented facility is in top shape for events ranging from university department retreats and training to dinners for diplomats and large receptions. All this on top of her work for the UA Foundation. The demands of the House commonly include early mornings, late evenings, Saturdays and Sundays. The nomination notes, "It is difficult for me to imagine how we could have managed if Carrie had not stepped up to take on this responsibility."
Mining and Petroleum Training Service staff
Performance Spotlight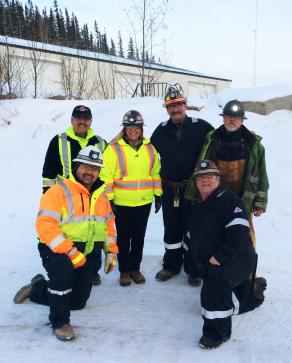 Mike Azzara, René Azzara, Daren Case, Elizabeth Hardie and Jim Smith of the Mining and Petroleum Training Service, or MAPTS, were recognized with the President's Spotlight Award during the Town Hall meeting on Feb. 23. The team was recognized for their work in developing a state-of-the-art mining training program in partnership with industry and the Yukon College.
"Under Bill Bieber's leadership, the MAPTS unit has developed a business model and curriculum that is meeting the workforce demands for Alaska underground mine training," stated the nomination.
The employer-influenced curriculum teaches critical technical skills for entry-level mine positions, instills safe work habits and teaches job readiness and life skills to prepare graduates for a successful career in mining. Students arrive with no experience in underground mining and after a month of focused training are ready to go directly to work. Starting annual salaries, not including benefits, can range from $70K-$75K with opportunities for advancement in an international industry.
The program uses a business model that creates partnerships with companies, Yukon College, Alaska Dept. of Labor, First Nations, and Alaska Native Corporations to fund training opportunities for new hires and develop skills for indigenous populations in Canada and Alaska.
A unique partnership with Alaska's major underground mine companies—Hecla Greens Creek and Sumitomo Metal Mining Pogo LLC—allows pre-screened and interviewed job applicants access to the training program. Within days of completing the training, program graduates go directly to work.
The MAPTS program increases the state's capacity to support the growing need for highly skilled resource development workforce without burdening the state with an expensive investment.
Congratulations to the team at MAPTS and thank you for your service and dedication to this highly successful workforce training program.
Teri Cothren
Performance Spotlight
On Wednesday, January 13, University President Jim Johnsen hosted a reception for the Anchorage-based UA Statewide employees. Following the President's summation of his State of the University address the previous night, he surprised the gathering by awarding his first UA Statewide President's Spotlight Award to Teri Cothren, Project Manager for Workforce Programs.
Teri was recommended by Associate Vice President Fred Villa for her significant contributions in career and technical education, and workforce development. According to AVP Villa, "Teri has demonstrated an innate ability to bring people together and work collaborative with faculty, administrators and employers to develop communication tools and processes that assist students develop and attain their career goals."
Prior to Teri's current position, she worked as a program/client manager for UA Corporate Programs. Congratulations Teri!
Elaine Main
Service Spotlight
Elaine organized and executed the entire K-12 to Butrovich building move with a tremendous amount of class, thoughtfulness and efficiency that will be benefit the University for years to come. Elaine worked closely with management, departments and vendors to provide the highest level of quality to all parties all while balancing her regular job duties which include being an Executive Assistant to the CFO. By having all of the Fairbanks Statewide staff in one building, we can improve morale and improve working relationships across departments. This move also serves to show the University, the Legislature and the community that Statewide takes our budget situation very seriously and that we stand ready to lead by example. Elaine succeeded in getting all departments to buy into this plan and did so in an amazingly organized fashion. The move also brought forth lease costs savings of over $100,000. In addition there will be productivity gains created by relocating similar functions in closer proximity.