Coronavirus information:
Visit the UA coronavirus information website to learn how the University of Alaska is responding to the novel coronavirus/COVID-19 situation and find links to communications, policy guidance and resources.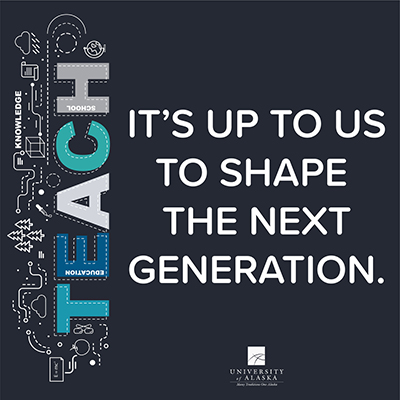 Teach Alaska
University of Alaska 
Educational Programs:
Nationally Accredited & State Approved
Alaska's teachers are helping to shape the future of our state. The University of Alaska is training the next generation of teachers.

Find an education program that matches your career goals.
Visit Teach Alaska site
Campaign For Alaska
The Campaign for University of Alaska
A great university supports a vibrant, bold tomorrow for every Alaskan.
Broadening access to education. Advancing critical research. Strengthening our economy. Preparing our workforce.
The time to act is now. Join us.
Visit Campaign Site
---
UA in the News
Alaska scientists study accelerating land subsidence affecting coastal North Slope communities

Jan. 17, 2022

Permafrost thaw and coastal erosion are affecting Point Lay and other North Slope and Northwest Alaska communities, as well as most places across Pan-Arctic coastlines.
Louise Farquharson, a research assistant professor at the University of Alaska Fairbanks Geophysical Institute, is working on long-term projections for how coastal erosion and land subsidence in Point Lay, Wainwright and Kaktovik may lead to extensive sea water inundation.

Read Article

Engineering professor fosters university community for Alaska Native students: 'It's full circle'

Jan. 17, 2022

In 2015, Yatchmeneff became the first Alaska Native female engineering professor in the Department of Civil Engineering at the University of Alaska Anchorage. Alaska Native undergraduates earning STEM degrees has more than quadrupled between 2000 and 2018, according to a 2019 study by ANSEP. But even today, Yatchmeneff faces a lot of the same hurdles as when she was a student.

Read Article

University of Alaska Board of Regents meeting takes a look forward at 2023 budget

Jan. 15, 2022

The University of Alaska leadership stressed stability during a UA Board of Regents meeting on Friday. The meeting opened with a discussion with consultant Dennis McMillian and wrapped up with a look ahead to the UA system budget for the 2023 fiscal year. The board requested a budget of $280.8 million which is four million more than Gov. Mike Dunleavy proposed budget for 2023.

Read Article
More News
575
Degrees, certificates and endorsements
22,044
Students enrolled in 2020
$170.1 M
Research expenditure
The University of Alaska is a land-, sea- and space-grant system of higher education established in 1917.
The UA system's three universities (UAA, UAF and UAS) are separately accredited institutions with campuses and extended learning centers across the state of Alaska.