Coronavirus information:
Visit the UA coronavirus information website to learn how the University of Alaska is responding to the novel coronavirus/COVID-19 situation and find links to communications, policy guidance and resources.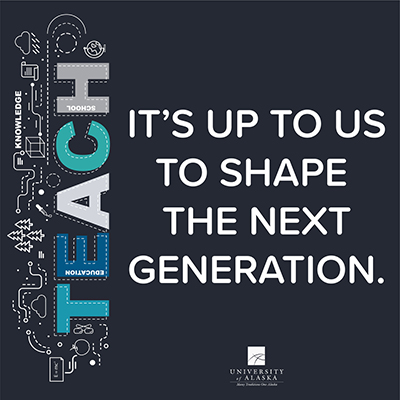 Teach
Alaska
University of Alaska 
Educational Programs:
Nationally Accredited &
State Approved
Alaska's teachers are helping to shape the future of our state. The University of Alaska is training the next generation of teachers.

Find an education program that matches your career goals at the University of Alaska.
Learn More
Did You Know?
Did you know that the United States military has a long and storied history in Alaska?

November 12, 2021


In honor of Veterans Day, this 'Did You Know' video presentation provides an in-depth look at the programs, services and support the university provides to student veterans, active military students, and dependents. The presentation reflects on the history of the U.S. Military presence in Alaska and the military partnerships that UA's three universities currently enjoy.
Read article

Did you know that the University of Alaska Museum of the North has the only suspended full skeleton of a bowhead whale anywhere in the Americas?

October 29, 2021


The special exhibition gives the museum visitors the opportunity to see the bowhead whale from the perspective of Native and non-native artists, writers and whalers, photographers and engineers.
Read article

Did you know peony research at the University of Alaska Fairbanks Georgeson Botanical Gardens helped create today's export market of these beautiful blooms?

September 28, 2021


In 2001, Pat Holloway planted the first test plot of peonies in the Georgeson Botanical Gardens.
Read article
More
UA in the News
Alaska scientist wins top award for his Arctic climate research

Nov. 15, 2021

A climate scientist with the University of Alaska Fairbanks has won a prestigious award for his Arctic research. John Walsh, chief scientist at UAF's International Arctic Research Center, was the third recipient of the Mohn Prize and the first U.S. scientist to receive the award.

Read Article

UA Giving Day surpasses $1 million in annual 49-hour fundraiser

Nov. 11, 2021

In an annual 49-hour fundraising event, hundreds of Alaskans donated more than $1 million to the University of Alaska's three universities. Donations were from more than 1,600 alumni, community members, corporate partners, faculty, and staff, and were designated to support specific programs, scholarship funds, or research enterprises.

Read Article

UAS Chancellor says enrollment may rise in 2022

Nov. 11, 2021

The University of Alaska board of regents are currently meeting, and during the meeting, Southeast campus chancellor Dr. Karen Carey says the number of student applying is down this year.

Read Article
More News
585
Degrees, certificates and endorsements
26,641
Students enrolled in 2018-19
$163.2 M
Research expenditure
65%
Graduates employed full or part time within six months of graduation
The University of Alaska is a land-, sea- and space-grant system of higher education established in 1917.
The UA system's three universities (UAA, UAF and UAS) are separately accredited institutions with campuses and extended learning centers across the state of Alaska.