Coronavirus information:
Visit the UA coronavirus information website to learn how the University of Alaska is responding to the novel coronavirus/COVID-19 situation and find links to communications, policy guidance and resources.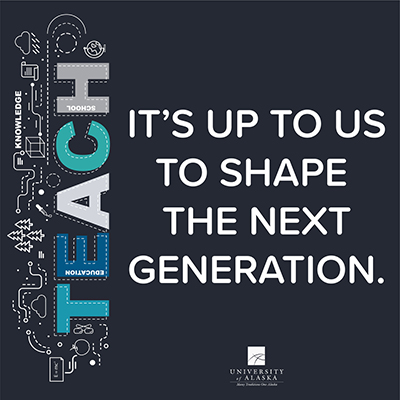 Teach
Alaska
University of Alaska 
Educational Programs:
Nationally Accredited &
State Approved
Alaska's teachers are helping to shape the future of our state. The University of Alaska is training the next generation of teachers.

Find an education program that matches your career goals at the University of Alaska.
Learn More
UA in the News
Alaska University President highlights success of edX partnership

Sept. 22, 2021

The President of Alaska's University System said the new online courses they provided on a learning platform that began last year have caught the attention of thousands of students from around the world.

Read Article

Yup'ik student starting company to extract rare earth elements

Sept. 20, 2021

A University of Alaska Anchorage student founded a company that garnered him an international award in early 2021. Michael Martinez, an undergraduate senior studying chemistry, won the High North Young Entrepreneur Award for his work using microbes to extract rare earth elements in an environmentally friendly process.

Read Article

UAF researchers looking at how the ocean is changing and what that means for us

Sept. 7, 2021

The chemistry of oceans impacts all the organisms in it. From oysters to crabs, mussels to snails, from shellfish to salmon, all are all affected by ocean acidification, and all are important for subsistence, commercial and sport fishing in Alaska.

Read Article
More News
585
Degrees, certificates and endorsements
26,641
Students enrolled in 2018-19
$163.2 M
Research expenditure
65%
Graduates employed full or part time within six months of graduation
The University of Alaska is a land-, sea- and space-grant system of higher education established in 1917.
The UA system's three universities (UAA, UAF and UAS) are separately accredited institutions with campuses and extended learning centers across the state of Alaska.