Student Success Convening

Due to current travel restrictions, the convening has been postponed until further notice.
About the Convening
Join colleagues from around the state at the second annual UA Student Success Convening on Monday, March 30, 2020 at the Fine Arts auditorium on the UAA Campus. Hear from leading experts on what works in student success. Hear from colleagues about what they are doing to increase student success at their campuses.
---
Keynote Speaker
William B. Davis
Associate Dean for Undergraduate Education
Washington State University (CSU)
William (Bill) Davis is an Associate Dean in the College of Veterinary Medicine (CVM). He has been involved in many institutional, regional, and national efforts to transform undergraduate education. At WSU, he has been a leader in helping the institution transform the student experience in both the classroom and in high impact practices. He was a founding member of the CVM Teaching Academy and in 2014 he brought the HHMI/NAS Scientific Teaching Program to WSU. In 2019 Bill became a PI on the WSU Transformational Change Initiative, an effort designed to help faculty and academic support staff create inclusive classroom environments, increase access to high-impact experiences, and improve the transition of students to the university. Bill has used his pedagogical training to transform his 500 student freshman biology course to incorporate the HHMI SEA-PHAGES course-based undergraduate research experience and increase student academic performance. He is also the director of the CVM STARS (Students Targeted for Advanced Research Studies) BS to PhD training program. Over the past 11 years, STARS has enrolled 40 students-38 of them have been retained at WSU in STEM, 37 have been retained in their initial life science major, 19 have pursued advanced degrees, and 8 students have received the Goldwater Scholarship.
At the national level, Bill serves as an active contributor to the leadership and successful implementation of three major initiatives. First, he is an external facilitator and steering committee member for the HHMI/NAS Mobile Summer Institutes (MoSI) on Scientific Teaching. These immersive workshops provide cohorts of faculty from a host institution pedagogical training related to the tenants of scientific teaching. The second national effort that he is involved in is the Partnership for Undergraduate Life Science Education (PULSE). Bill was selected in 2012 as one of the original 40 PULSE Leadership Fellows by the NSF/NIH/HHMI and he currently serves as the Treasurer for this non-profit organization. A major PULSE effort he helped lead was the Pacific Northwest PULSE Community of Practice where 65 teams of administrators and faculty successfully used the tenants of Systems Thinking to implement and assess departmental transformation. The third national effort that Bill is a leader in is the AAC&U-Project Kaleidoscope where he serves as a member of the External Advisory Board and a Co-Leader each summer for the AAC&U-PKAL STEM Leadership Institute (SLI). During the SLI, Bill and his collaborators use experiential learning, mentoring and coaching to train cohorts of 20 emerging STEM leaders to design and implement transformation efforts at their home institutions.
Keynote Speaker
Khadish O. Franklin
Director, Strategic Research and Research Advisory Services
EAB
Khadish O. Franklin is Director for Strategic Research and Research Advisory Services at EAB. He brings to the firm a deep knowledge of the impacts of higher education policy and institutional factors leading to postsecondary success for students. He is a noted author, researcher, speaker and consultant. Prior to coming to the company, Franklin served as the Associate Director and Senior Researcher at the Pell Institute for the Study of Opportunity in Higher Education. With Pell, Khadish also served as a Co-PI for a US Department of Education Investing in Innovation (i-3) grant entitled, Using Data to Inform College Access Programming; and managed the development of a longitudinal enterprise data solution that integrates data to help educators make informed decisions regarding student achievement and college access and success. He was also a co-author of the widely cited annual publication of Indicators of Higher Education Equity in the United States and chair of the Student Financial Aid Research Network (SFARN) Conference. His written research explores practices for supporting students' academic achievement, college persistence, and completion.
Franklin has held a number of roles in policy organizations, research centers, and university teaching and administration including as the Senior Education Policy Researcher at the Georgia Student Finance Commission in Atlanta, where he coordinated the development of a state longitudinal education database, policy initiatives and analysis, and efforts to improve the state's lottery funded HOPE scholarship program, the Institute for Higher Education Policy, the University of Maryland, the National Association of Student Personnel Administrators, and Florida State University. He serves on the Equity Advisory Group of the Data Quality Campaign, has served as a member of the Technical Review Panel for IPEDS, a chair for a Knowledge Community for NASPA and on the Champions Board for the Institute for the Study of Knowledge Management in Education (ISKME).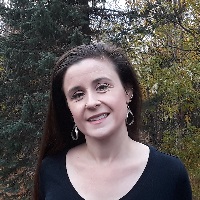 Presenter
Dr. Dayna DeFeo
Director, Center for Alaska Education Policy Research (CAEPR)
UAA
Dr. Dayna DeFeo has been working for UAA's Institute of Social and Economic Research since 2014 and is currently a research assistant professor and the director of the Center for Alaska Education Policy Research. She holds a PhD in Curriculum & Instruction form New Mexico State University. Dr. DeFeo's primary research interests include college and postsecondary transitions, particularly in the career and technical fields and for underrepresented populations; teacher turnover, supply, and demand; and representation and hegemony in the curriculum and institutional systems.