Shaping Alaska's Future
UA Leadership Starts With You
From the very beginning, Shaping Alaska's Future's commitment to growing leadership has been front and center. More than 140 leaders (including deans, directors, chancellors, and key staff at all three Universities and Statewide) have taken part in 360 degree assessments through the Center for Creative Leadership.
UA's commitment to continue developing leaders in all levels of engagement across our statewide system is critical to ensuring that future generations of Alaskans will have the opportunity to learn in a higher education environment that is second to none.
All faculty, staff, students and administrators need to engage in this change initiative to help make it the success it can be. Work through reporting lines or shared governance groups to do your part.
To find out more about leadership at UA, and higher education nationwide, click here.
UA Board of Regents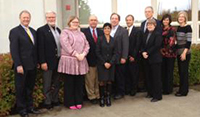 The University of Alaska Board of Regents is an 11-member board, appointed by the governor and confirmed by the Alaska Legislature. Members serve an eight-year term, with the exception of the student regent who is nominated from his/her campus and serves a 2-year term.

The board was established through the Alaska Constitution and is responsible for University of Alaska policy and management through the university president.
To find out more about the UA Board of Regents, please click here.

UA Regents from left to right:
Kirk Wickersham, Dale Anderson, Courtney Enright, Fuller Cowell, Jyotsna Heckman, Mike Powers, Kenneth Fisher, Patricia Jacobson, Pat Gamble, Gloria O'Neill and Mary Hughes. Not pictured: Timothy Brady.
New - Governor Walker Announces the Appointment of Four UA Board of Regents Appointees
UA Summit Team
The UA Summit Team - comprising Chancellors Tom Case, Rick Caulfield and Interim Chancellor Mike Powers; Provosts Sam Gingerich, Susan Henrichs and Interim Provost Priscilla Schulte; Vice Chancellors for Administrative Services Bill Spindle, Kari Burrell and Michael Ciri; President Jim Johnsen, VP AA&R Dan White, and Chief Strategy, Planning and Budget Officer Michelle Rizk. - is charged to take up issues that cross university boundaries. They will make necessary decisions or recommend changes to the board when new policy is needed. The role of shared governance in this endeavor is extremely important.
This leadership team is focused on systemwide change and not on specific issues at individual universities. They'll help select the best people to address the topic, be it a faculty or staff group, a particular field of service or academics, or a technology working group.
UA Governance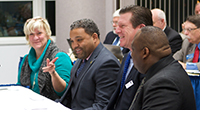 Shared governance in the UA System is part of UA Board of Regents policy: Chapter 03.01 – Faculty, Staff and Student Governance (POLICY)
The opportunity for faculty, staff and students to participate in the governance of the university is important to its effective operation and an integral part of the university community's culture. The governance structure includes a systemwide organization for faculty, staff and students; an alliance of faculty senates; an alliance of classified and administrative/professional/technical staff; an intercampus student network; and appropriate campus constituent organizations.
The organizations provide an effective opportunity for university faculty, staff and students to play a meaningful role in matters affecting their welfare; represent the viewpoints of university faculty, staff and students on regents' policy, university regulation, and other matters affecting the interests of the university; address through legislative action other matters as described in their approved constitutions; advise the president and chancellors in a timely fashion and in a manner set forth in individual organizational constitutions; and communicate to faculty, staff and students information of interest and concern to the university. Click here to find out more about UA Governance.
UA Foundation Board of Trustees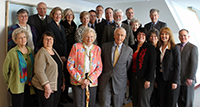 The University of Alaska Foundation is a private nonprofit corporation, operated as a public Foundation, which was established in 1974 to solicit, manage and invest donations for the exclusive benefit of the University of Alaska.
The UA Foundation is governed by its own Board of Trustees. These volunteers comprise prominent Alaskans and include the university president, two members of the Board of Regents and the chancellors from each campus.
To find out more about the UA Foundation Board of Trustees, please click here.
---
Contact Information
Vice President of Academic Affairs and Research Dana Thomas is leading the Shaping Alaska's Future conversation.
Academic Affairs and Research
Butrovich 202
PO Box 755000
Fairbanks, AK 99775-5000

phone: 907-450-8018
email: dlthomas@alaska.edu