Advocacy Materials
University of Alaska
The University of Alaska has a constitutional mandate to provide Alaskans with a quality education and we will continue to do so.
UA provides higher education to Alaskans at all stages of life and levels of education: from high school bridging programs, recent graduates, adults returning to college or military veterans, to life-long learners returning to higher education after retirement.
Programs are offered at many levels, from occupational endorsements and workforce training programs that can be completed in 9-29 credits, all the way up through associate, bachelor's, master's and doctoral degrees.
Community campuses, career and technical colleges, online and distance-delivered courses reach Alaskans all across the state where and when they need them.
One consequence of a massive budget reduction would be the loss of access to the university system as it now exists and the reduction of opportunities currently available to all Alaskans. The closure of campuses and/or elimination of program offerings could further diminish Alaska's already low college-going rates.
If this budget passes the legislature the ripple effect will be felt throughout the entire Alaska economy.
Advocacy Materials - download the advocacy toolkit

Advocacy Actions
#supportUA on social media
Social media is a great place to share positive news about the university - and to respectfully correct misinformation when you encounter it. As always, the most effective tool is your personal story. Share how you have been impacted by the University of Alaska, why you support funding the university and why you oppose huge cuts to education.
Lift your hand for UA - Social media campaign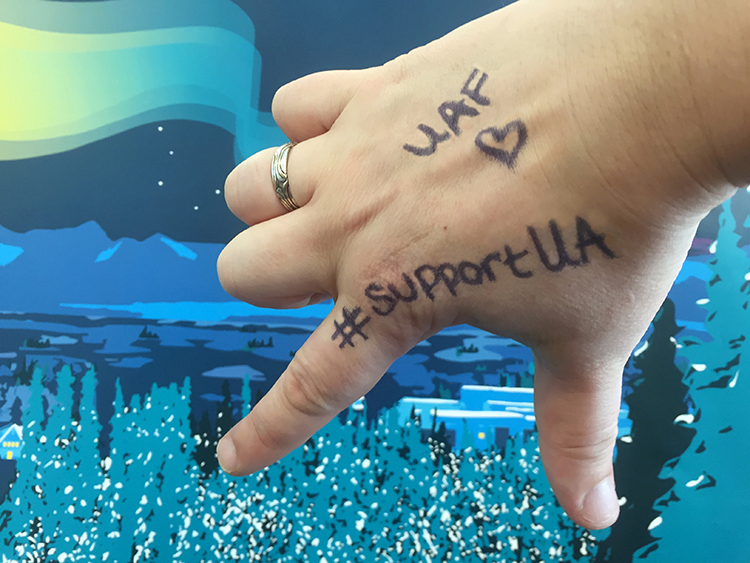 Alaskans often use their right hand to make a map to show where they live, travel, work or study in the state. We want you to lift your "Alaska" hand to show your support for higher education. Mark which c­ampus you attend, graduated from, work for, or hire from and post the picture to your social media with your #supportUA story. Share it, make the image your profile picture, ask others to join you and proudly tell the world why you support the University of Alaska.


Send a postcard:
Copies of a privately-funded postcard are available through campus alumni and governance offices. Anyone interested can grab a few to write a personalized message to your legislator. Postage not included.
When contacting legislators remember to make your communication personal to your own views. While it's good to be aware of the University of Alaska budget, it's preferable to talk to legislators about what you know best.
If you're a student and you've had a professor who really made a difference in your educational path—share that story. Perhaps you're an alumnus who is involved in a successful venture—talk about that. Maybe you're a business owner who regularly hires UA graduates—that's a great story to share.
If you live in a particular legislative district—speak to your representatives as a voter and constituent; tell them specific ways you'd like to see them support UA.