Welcome to Alaska NSF EPSCoR
Alaska NSF EPSCoR improves Alaska's scientific capacity by engaging in research projects supported through National Science Foundation and state funds. EPSCoR recently commenced "Fire and Ice," a five-year project to study climate-driven changes to Alaskan wildfire regimes and coastal ecosystems. For more information check out one-page summaries of each component of the program: Boreal Fires, Coastal Margins, and Diversity, Education and Workforce Development. You can also check out posters, presentations and publications from Fire and ice researchers.
Alaska NSF EPSCoR also helps to administer "Teaching Through Technologies," a three-year educational project to excite high school students about science through experiments with unmanned aerial vehicles, 3-D printers and codeable digital devices. EPSCoR also supports Alaska researchers through other funding streams. For more information about our history, take a look at this small poster that tracks the timeline and structure of NSF EPSCoR in Alaska.
For information on how to acknowledge EPSCoR support of your work, see the lower right corner of this page.
Fire and Ice hiring Microbiologist
Fire and Ice has announced its next faculty opening, an Assistant Professor of Microbiology at the University of Alaska Southeast. The hire will assist in Fire and Ice research and be responsible for teaching courses including: Microbiology, a service course for the Nursing program, Forest Ecosystem-related courses for Biology and Environmental Sciences, and upper-division courses and seminars in their area of expertise.
The position is open until filled and initial application reviews will take place beginning December 15.
All Hands Meeting presentations and posters
If you missed the 2019 Alaska NSF EPSCoR All Hands Meeting, or you want to review any material presented there, we've uploaded PDFs of meeting presentations and posters.
Also, if you're looking for Fire and Ice stickers, bookmarks, or posters, swing by 202 WRRB at UAF.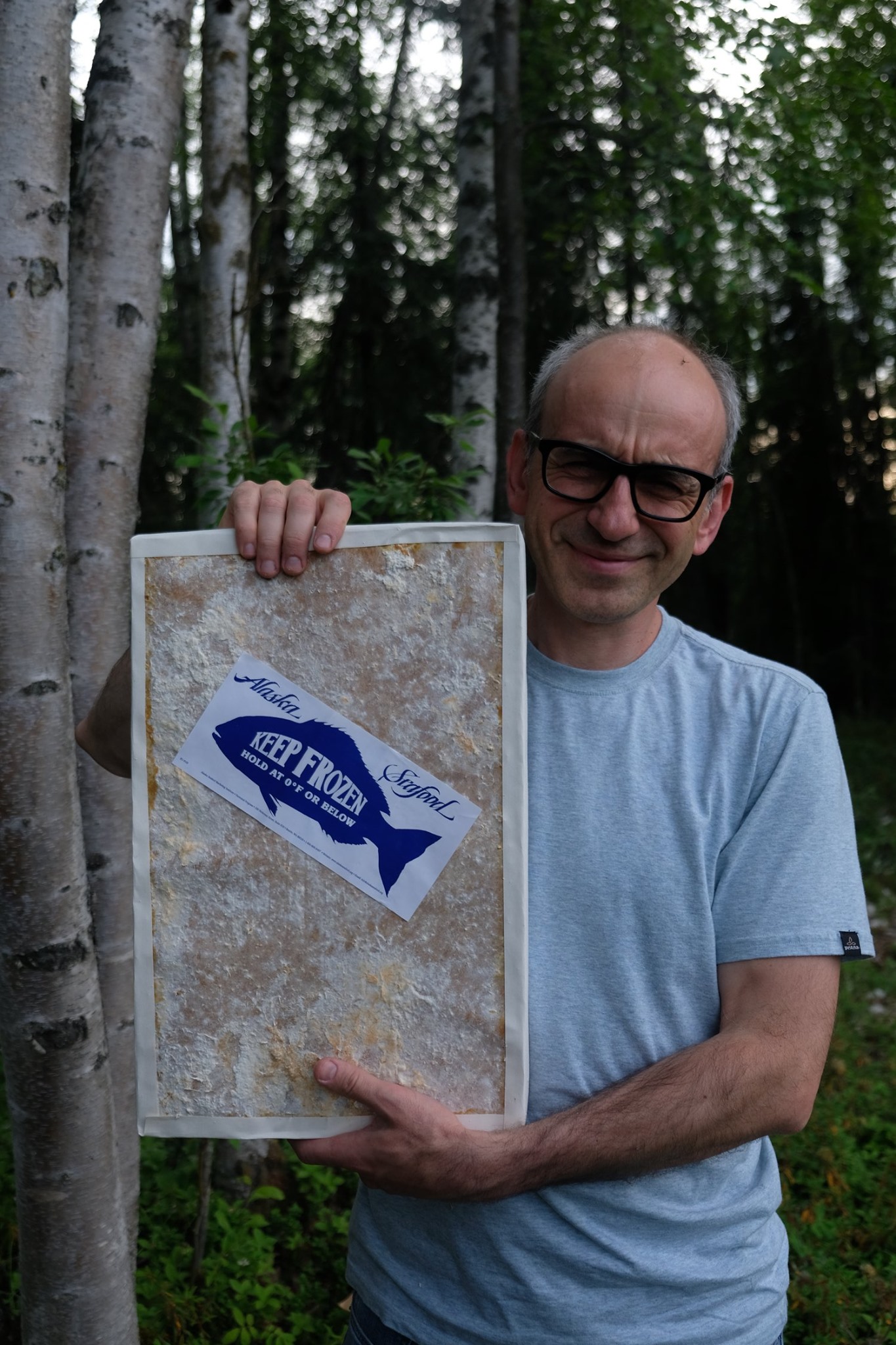 Alaska TREND "Phase 0" winners
The Technology Research and Development Center of Alaska (Alaska TREND) has announced the 5 winners of its 2019 competition for "Phase 0" awards. These awards, which are funded by Alaska NSF EPSCoR, go to promising Alaskan tech start-ups to assist in applying for larger federal grant support. The winners are:
First Place: The Launch Company, which is developing technology for space launches including next-generation launch sites and "Quick Disconnect" fittings for launch vehicles.
Second Place: Rhizoform, LLC, which is developing a biodegradable foam derived from fungi for use in shipping seafood. (Pictured: Philippe Amstislavski holds a sample of a shipping container insulated with biodegradable mushroom tissue.)
Third Place: Aquagga Inc. is developing cost-effective methods of cleaning and desalinating industrial effluents.
Fourth Place: Alon Winston Innovations is developing a new type of machine learning algorithm for use in advanced AI and robotics.
Fifth Place: GRAYSTAR Pacific Seafood, Ltd. provides technical services in all aspects of fisheries.
EPSCoR videos and highlights
We've been busy producing videos and PDF highlights about the Fire and Ice project. Recent videos include an absorbing animated introduction to hyperspectral remote sensing (source of the image to the left); a sampler of some of our drone footage of this summer's fieldwork; and timelapse video of Grewingk Glacier Lake and the Jakalof River produced by our Coastal Margins "Stream Team."
We've also produced our first PDF highlight from the Fire and ice project, about some first collaborative steps toward stream monitoring. Many thanks to Molly Tankersley of the Alaska Coastal Rainforest Center for the text and photos.
UAF researcher receives EPSCoR "Track-2" award
Hyunju Connor, an Assistant Professor with the UAF College of Natural Sciences and Mathematics and the Geophysical Institute, has received a $1.94 million "Track-2" award from the national NSF EPSCoR program.
The four-year award will fund Connor to collaborate with researchers at the University of New Hampshire to study geomagnetically induced currents, which are caused by geomagnetic disturbances during space weather events and which can produce power outages, train system failures, and pipeline corrosion. The research team will apply machine learning techniques to over two decades of space- and ground-based observations and develop two prediction models for geomagnetic disturbances and risk of geomagnetically induced currents, which will be provided to the NOAA Space Weather Prediction Center. The project will also incorporate data from the Space Weather Underground (SWUG) program, in which high school and undergraduate students build and deploy magnetometers, measure geomagnetic disturbances, and analyze the data.