Welcome to Alaska NSF EPSCoR
Alaska NSF EPSCoR improves Alaska's scientific capacity by engaging in research projects supported through National Science Foundation and state funds. EPSCoR recently commenced "Fire and Ice," a five-year project to study climate-driven changes to Alaskan wildfire regimes and coastal ecosystems. For more information check out one-page summaries of each component of the program: Boreal Fires, Coastal Margins, and Diversity, Education and Workforce Development.
Alaska NSF EPSCoR also helps to administer "Teaching Through Technologies," a three-year educational project to excite high school students about science through experiments with unmanned aerial vehicles, 3-D printers and codeable digital devices. In addition, the organization just concluded a six-year project entitled "Alaska Adapting to Changing Environments (ACE)," which examined the mechanisms by which communities adapt to environmental and social change. For more information about our history, take a look at this small poster that tracks the timeline and structure of NSF EPSCoR in Alaska.
For information on how to acknowledge EPSCoR support of your work, see the lower right corner of this page.

DEPSCoR funding available
The Department of Defense has relaunched its EPSCoR program ("DEPSCoR") and announced a total of $3.6 million in funding for projects related to DoD technical research areas. PI and Co-PI teams from EPSCoR states (including Alaska) are invited to register by October 18 and submit white papers by October 25. Individual awards are for up to $200,000 a year for up to three years. See the Funding Opportunity Announcement for more details.
Fire and Ice makes first faculty hire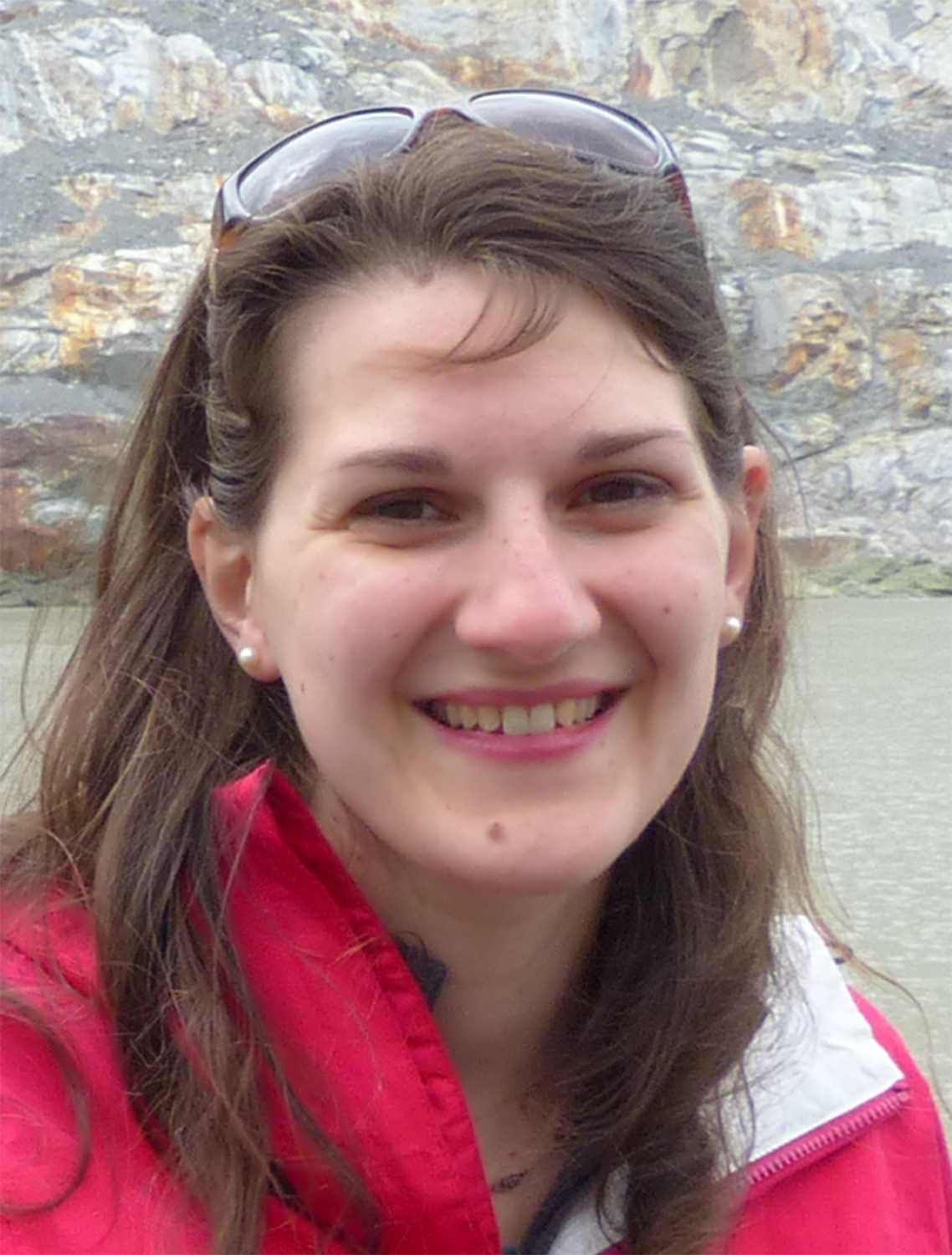 The Fire and Ice project has hired its first tenure-track faculty member. Dr. Gwenn Hennon will start in fall 2019 as an Assistant Professor of Oceanography at UAF, and will assist the Coastal Margins team in phytoplankton research. She holds a bachelor's in Chemistry from MIT and an M.S. and Ph.D. in Oceanography from the University of Washington, and has spent the last three years as a postdoctoral scientist at the Lamont-Doherty Earth Observatory at Columbia University.
Hennon is the first of five faculty hires planned over the course of Fire and Ice.
New EPSCoR staff

The central EPSCoR office recently welcomed some new staff members. First, we have a new Project Administrator, Faye Gallant. Faye comes to EPSCoR from the UAF Office of Information Technology; she has degrees from UAF and UAS and nearly a decade of experience as a coordinator, administrator and analyst at various UAF offices. Former Project Administrator Pips Veazey is continuing on in her role as Associate Project Director. In addition, EPSCoR also has a new Fiscal Manager: Shannon Watson, a UAF grad with 17 years under her belt as a fiscal professional at the university. Shannon replaces Susan Frei, who left to take a new job in the Lower 48. Also departing is Education, Outreach and Diversity Director Tania Clucas, who took a position in the office of state representative Grier Hopkins.
EPSCoR highlights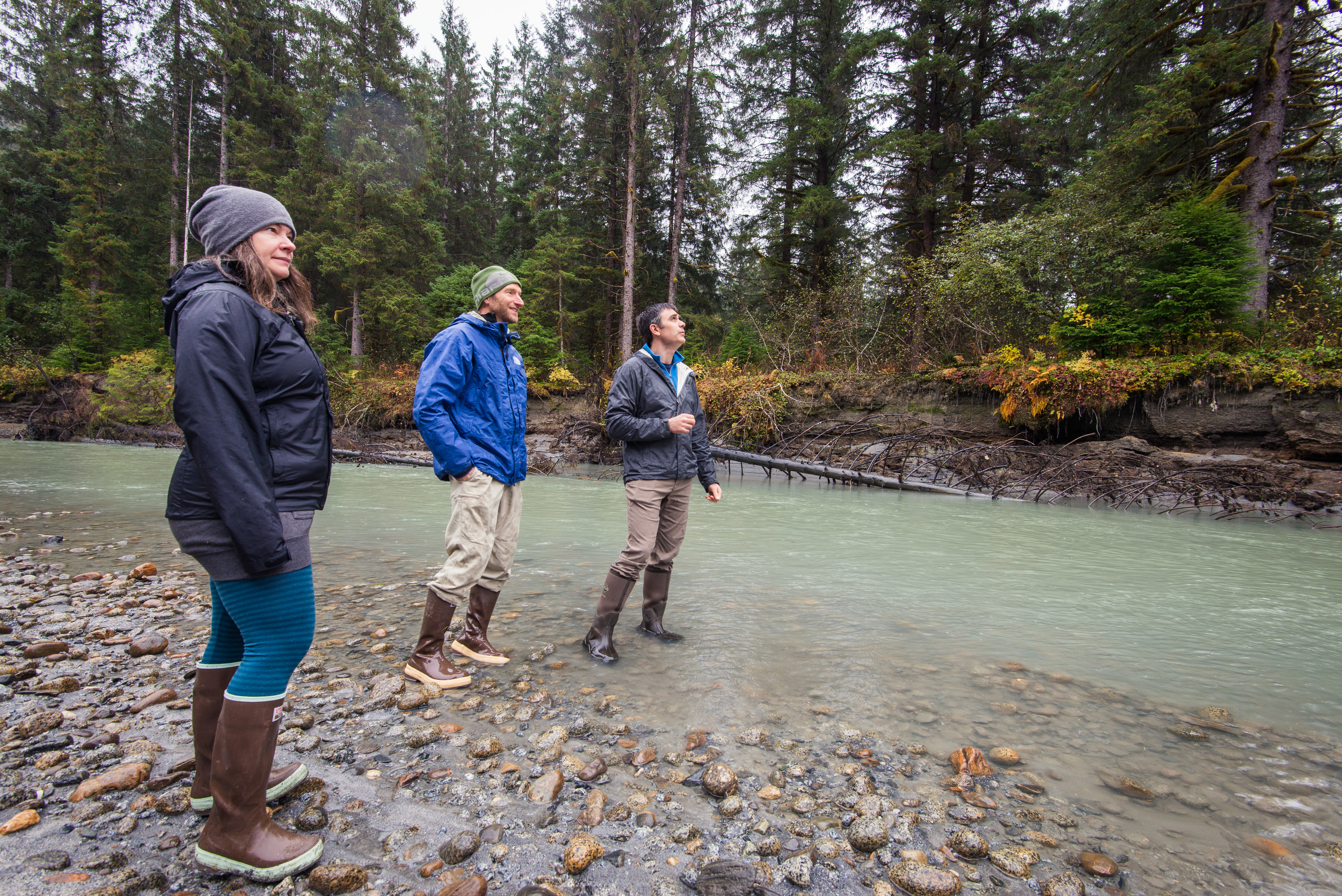 F&I faculty LeeAnn Munk, Jason Fellman and Eric Klein
We've produced our first PDF highlight from the Fire and ice project, about some first collaborative steps toward stream monitoring. Many thanks to Molly Tankersley of the Alaska Coastal Rainforest Center for the text and photos.
We also have available a number of PDF highlights about research and outreach from the recently concluded Alaska ACE project. Alaska EPSCoR's YouTube site also includes links to multiple recent videos from the ACE project. We also now host sound signatures of planes flying over the North Slope, courtesy of an ACE Northern Test Case research project by UAF MS student Taylor Stinchcomb.
Three UAF researchers receive EPSCoR awards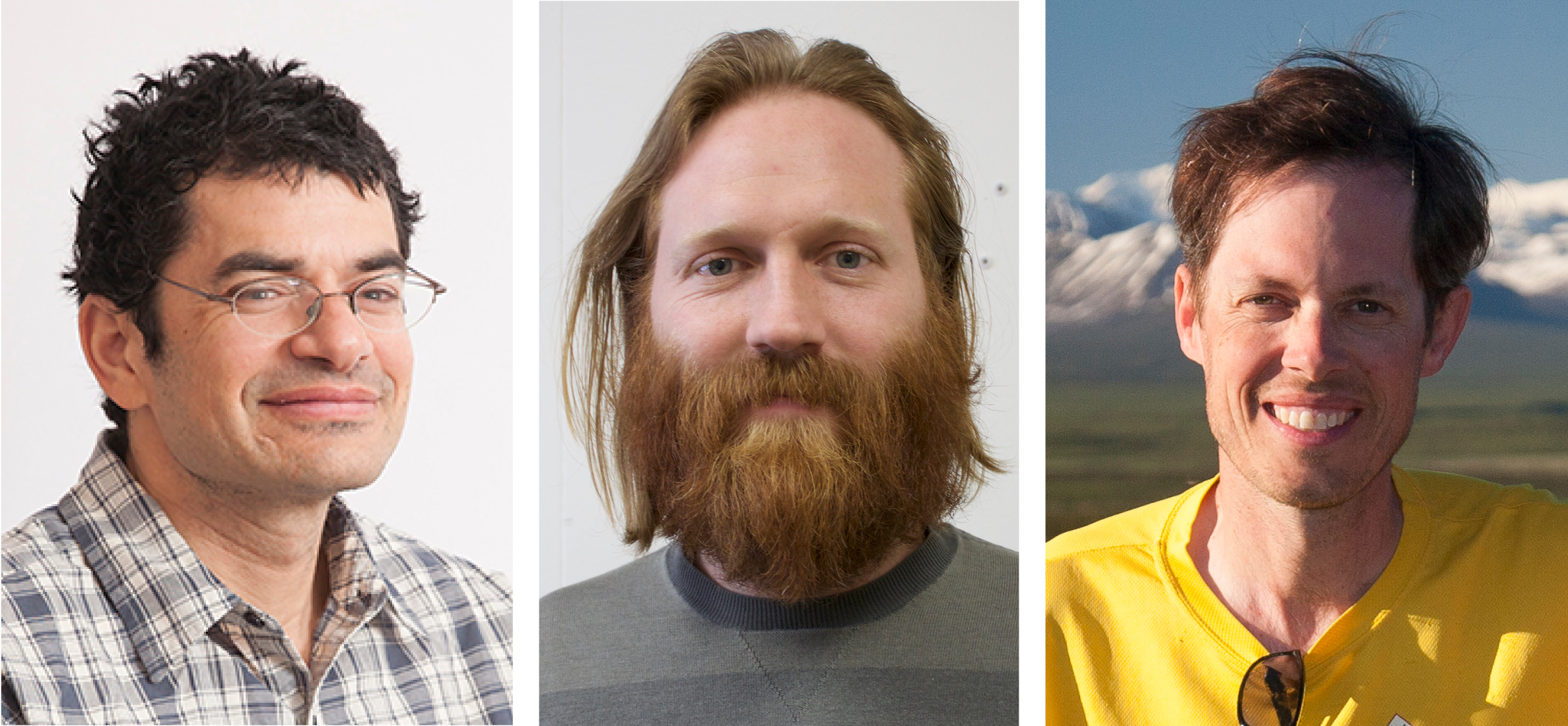 Three UAF researchers have received individual NSF EPSCoR "Track-4" awards, which enable scientists to collaborate with major research centers to continue their work.
Jeff Benowitz, a Research Assistant Professor with the Geophysical Institute, received $220,043 for his proposal "Why are Young Volcanic Rocks Undateable: Chemistry, Environment, or Instrumentation?" The funding will enable Benowitz and a graduate student to work with researchers at Oregon State University to determine the age of young volcanic rocks from Alaska's Aleutian and Wrangell arcs. The project will investigate how the chemistry and environments of samples and the sensitivity and precision of instruments contribute to uncertainties in determining the age of young volcanic rocks, and enable the development of new methods to more accurately date the rocks.
Eric Collins, an Assistant Professor with the College of Fisheries and Ocean Sciences, received $187,301 for his proposal "Advancing Machine Learning in Biological Oceanography through Interdisciplinary Collaborations." Collins and a graduate student will travel to the Woods Hole Oceanographic Institution in Massachusetts to use machine learning to predict distributions of Arctic marine microbes and their use and transformations of metals. They'll then use this knowledge to design methods for adaptive biological sampling using flow-through systems and ocean profilers.
Ken Tape, an Associate Professor with the Geophysical Institute, received $200,382 for his proposal, "Predicting Beaver Colonization of the Arctic and Creation of Tundra Stream Oases." Tape and a postdoctoral researcher will spend six months at Northern Arizona University working with experts in satellite image analysis to further his research into the expansion of beaver habitat into arctic tundra.
Check out our new logo!
Thanks to our Data Visualization Specialist Cassidy Phillips, Fire and Ice now has a great new logo! Please use this in addition to, or as an alternative to, the EPSCoR logo on posters, presentations, etc. We have the logo with border lettering (as seen to the left) in PNG and TIFF formats, and also have the logo without the border lettering as a PNG or TIFF.

2019 Travel Awards
Congratulations to the winners of our 2019 Fire and Ice travel awards. The 9 winners received up to $3,500 each to support travel to present at conferences or to pursue educational opportunities. Look for more awards to be available in the fall.
Kay Shoemaker, an Anchorage faculty member with the UA Cooperative Extension Service, will attend the Northwest Aquatic and Marine Educators Conference in Port Townsend, Wash., and present on "Reflective Storytelling and Climate Change Education in Alaska."
Ragen Davey, a graduate student in the UAF Department of Chemistry and Biochemistry, will attend the American Chemical Society National Conference in San Diego and present on "Characterizing Wintertime Aerosol Composition and Sulfate Formation, Fairbanks, Alaska."
Rachel Lekanoff, a graduate student in the UAF College of Fisheries and Ocean Sciences, will attend "Ocean Hack Week" at the University of Washington to learn methods for applying programming languages to large oceanographic data sets.
Kristen Gorman, research faculty at the UAF College of Fisheries and Ocean Sciences, will attend "AniMove," an analysis workshop in animal movement ecology at Yale University, to learn current computational methods for analyzing animal movement data.
Katie McCabe, a graduate student at the UAF College of Fisheries and Ocean Sciences, will attend a PRIMER workshop in San Marcos, Texas, which focuses on multivariate analysis in ecology and understanding relationships between biological and environmental data sets.
Amanda Droghini, a research professional at the Alaska Center for Conservation Science at UAA, will travel to Washington, D.C. for a course at the Smithsonian-Mason School of Conservation on "Estimating Animal Abundance and Occupancy."
Eran Hood and Sonia Nagorski, both UAS faculty, will both attend the Geological Society of America Penrose Conference on "Climate Controls on Sediment Transport Across Coastal Margins" in Juneau.
Jingqiu Mao, faculty in the UAF Department of Chemistry and Biochemistry, will attend the Gordon Research Conference on Atmospheric Chemistry in Newry, Maine to present a project on "Characterizing Brown Carbon in Northern High Latitudes."
Looking for ACE content?
The Alaska Adapting to Changing Environments project concluded on December 31, 2018. That being the case, information about the project has been moved to the EPSCoR archive. At present, the archive contains all pages that were originally hosted here on the main site, as well as a new page containing all information and links from the Southcentral Test Case's Salmon 2050 project and another containing a new bathymetry map of the Colville River produced for the Northern Test Case.
Research posters and presentations
Whenever possible, we will make research posters and presentations by our Fire and Ice researchers available on this site, in addition to lists of publications. Here are our first offerings:
---
For more information
For more information on Alaska NSF EPSCoR in general, this poster gives an overview of the history of the organization in Alaska.
The Alaska EPSCoR data portal gives access to datasets generated by or related to NSF EPSCoR research.
The Alaska Science and Technology Plan, which prioritizes the state's S&T activities, was crafted with extensive EPSCoR input. The plan was written by the Alaska State Committee for Research, a panel of academic, political and business leaders charged with overseeing Alaska EPSCoR and advising on the state's research enterprise.
EPSCoR acknowledgment and logos
By our grant terms, any person receiving benefit from Alaska NSF EPSCoR must acknowledge it in any publications, presentations, websites, newsletters, dissertations, theses, etc. that result from Alaska NSF EPSCoR support.
For work supported by the Fire and Ice award (2018-2023), please use the following language: "This material is based upon work supported by the National Science Foundation under award #OIA-1753748 and by the State of Alaska."
For work supported by the Alaska Adapting to Changing Environments (ACE) award (2012-2018), please use the following language: "This material is based upon work supported by the National Science Foundation under award #OIA-1208927 and by the State of Alaska."
Alaska NSF EPSCoR logos for use in posters and other presentations are available here as EPS, JPEG and TIFF files. We also have a Fire and Ice logo; Please use this in addition to, or as an alternative to, the EPSCoR logo on posters, presentations, etc. The logo is available with border lettering in PNG and TIFF formats, and also without the border lettering as a PNG or TIFF.