Welcome to Alaska NSF EPSCoR
Alaska NSF EPSCoR improves Alaska's scientific capacity by engaging in research projects supported through National Science Foundation and state funds. EPSCoR is commencing "Fire and Ice," a five-year project to study climate-driven changes to Alaskan wildfire regimes and coastal ecosystems. The organization is also concluding a six-year project entitled "Alaska Adapting to Changing Environments (ACE)," which examines the mechanisms by which communities adapt to environmental and social change. For more information on ACE please visit our Program Structure section or see the project's Strategic Plan, Midcourse Report or newsletters. If you're looking for project data or related data please visit our data portal. We've also created a small poster that tracks the timeline and structure of NSF EPSCoR in Alaska. Alaska NSF EPSCoR also helps to administer "Teaching Through Technologies," a three-year educational project to excite high school students about science through experiments with unmanned aerial vehicles, 3-D printers and codeable digital devices.
Three UAF researchers receive EPSCoR awards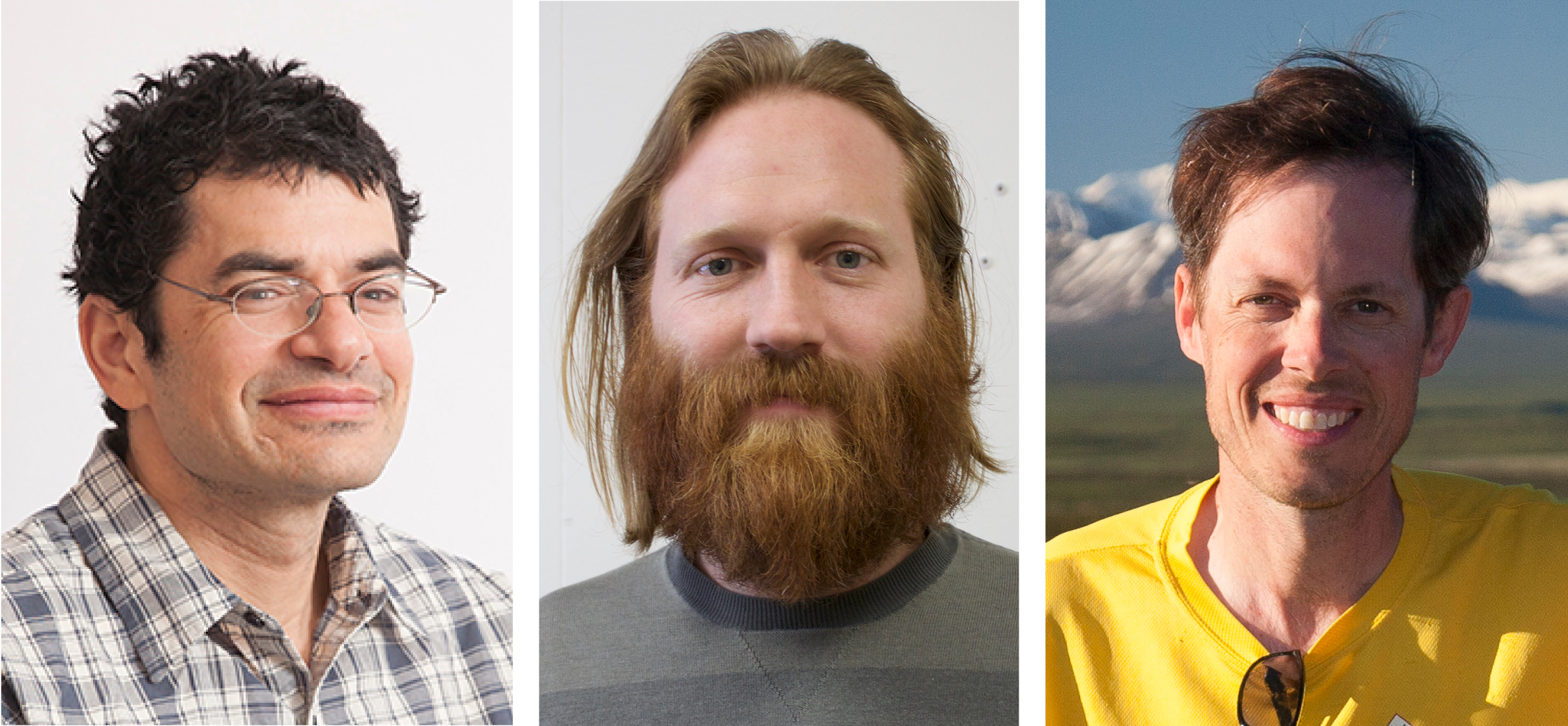 Three UAF researchers have received individual NSF EPSCoR "Track-4" awards, which enable scientists to collaborate with major research centers to continue their work.
Jeff Benowitz, a Research Assistant Professor with the Geophysical Institute, received $220,043 for his proposal "Why are Young Volcanic Rocks Undateable: Chemistry, Environment, or Instrumentation?" The funding will enable Benowitz and a graduate student to work with researchers at Oregon State University to determine the age of young volcanic rocks from Alaska's Aleutian and Wrangell arcs. The project will investigate how the chemistry and environments of samples and the sensitivity and precision of instruments contribute to uncertainties in determining the age of young volcanic rocks, and enable the development of new methods to more accurately date the rocks.
R. Eric Collins, an Assistant Professor with the College of Fisheries and Ocean Sciences, received $187,301 for his proposal "Advancing Machine Learning in Biological Oceanography through Interdisciplinary Collaborations." Collins and a graduate student will travel to the Woods Hole Oceanographic Institution in Massachusetts to use machine learning to predict distributions of Arctic marine microbes and their use and transformations of metals. They'll then use this knowledge to design methods for adaptive biological sampling using flow-through systems and ocean profilers.
Ken Tape, an Associate Professor with the Geophysical Institute, received $200,382 for his proposal, "Predicting Beaver Colonization of the Arctic and Creation of Tundra Stream Oases." Tape and a postdoctoral researcher will spend six months at Northern Arizona University working with experts in satellite image analysis to further his research into the expansion of beaver habitat into arctic tundra.
New Letter from the PI available
Alaska NSF EPSCoR PI Anupma Prakash has sent out a "Letter from the PI" for October, touching on the Fire and Ice project and EPSCoR Track-4 awards.
NSF looking for research ideas
The National Science Foundation is holding a contest to solicit ideas for its long-term research goals.
Entrants to the "NSF 2026 Idea Machine" competition will submit "grand challenge" questions for future NSF research, first in written form and later (if they make the semifinal round) via video pitches. The public will be invited to comment on the entries, and the final dozen will be interviewed by a blue-ribbon panel before NSF leaders pick 2-4 winners.
Authors of winning entries will receive cash prizes and public recognition, and the NSF will use winning entry ideas to identify future funding opportunities – within existing programs or by developing new ones.
The NSF is attempting to reach out beyond the traditional research community with the contest and hopes to attract entries from industry, foundations, amateurs, professionals, and anyone with an interest in the U.S. science and engineering enterprise.
Written entries are due October 26. Check out the
contest website
for more information.
Veazey named to INSciTS Board
EPSCoR Project Administrator/Associate Project Director Pips Veazey has been selected to serve on the board of directors of INSciTS, the International Network for the Science of Team Science. The newly-formed organization is the result of 10 years of meetings and its goal is to "create and facilitate a high-impact community that develops and disseminates an evidence-base to support team science and shapes how research is conducted to solve complex problems." Veazey will serve a three-year term on the 12-member board.

Vis Space



Our decision-making and visualization space on the UAF West Ridge is getting a new, simple moniker: Vis Space. The space will still offer all of the same capabilities and possibilities as it did before, just under a new name.
Green, Aggarwal receive NSF CAREER awards
Two EPSCoR-affiliated faculty have recently received prestigious National Science Foundation CAREER awards.
UAF Assistant Professor of Graduate Education Carie Green (pictured) will receive $591,600 from the NSF for a five-year project entitled "A longitudinal study of the emotional and behavioral processes of Environmental Identity Development among rural and non-rural Alaskan children." Green's research into environmental identity development in young children was supported by EPSCoR, both through direct support of an "Engaging Young Children as Active Researchers" project on the UAF campus and an Alaska Native Engagement Grant to study EID in the village of Unalakleet.
UAF Assistant Professor of Engineering (and Alaska EPSCoR faculty hire) Srijan Aggarwal received $508,000 for his proposal, "Fundamental Investigation of Biofilm Mechanical Properties in Drinking Water Distribution Systems." Aggarwal will research how bacteria form biofilms inside of drinking water pipes, how strong these films are, and how easily they can become detached from the pipe surfaces. This research will be used to develop strategies to remove biofilms to help ensure safe drinking water supplies.
NSF Faculty Early Career Development (CAREER) awards recognize early-career faculty who have a strong potential to show leadership in their field by integrating education and research.