We partner with districts to form EdRising chapters and offer support for them to "grow your own" future educators.
Students explore education professions, gain confidence through competitions, learn leadership skills, and are offered opportunities to become a student officer.
Teacher Leaders in the EdRising program are provided curriculum, professional development credits, and competition training.
Featured Educators Rising AK (or FEA) Graduates
Meet Tommy Varela-Kossak, Past Educators Rising Alaska Officer, Graduate, & Current Teacher!
Tommy Varela-Kossak is a teacher at Ketchikan High School and is working on re-establishing an EdRising AK chapter at his school. Photo courtesy of: Tommy Varela-Kossak.

Tommy Varela-Kossak is a high school educator who was raised in Ketchikan, Alaska. While at Ketchikan H.S. (aka. "Kayhi"), he enrolled in child careers and child psychology courses for all four years of his high school career. He was a member of Future Educators of Alaska (the program that Educators Rising Alaska evolved from) for his last two years at Kayhi. Through FEA he received college credit, competed at the state conference and served as State Treasurer during his senior year.
After leaving the state to attend college in Chicago, Tommy returned to Alaska and received his masters in teaching from UAS. He currently teaches social studies and drama at the same high school he graduated from in 2015.
"It is so important that we bring teachers back who know our unique and diverse students in Alaska. Without FEA (EdRising), I would never have discovered my passion for teaching. It is a program that not only shines a light on the real life experience of working with students, but also gives students the knowledge of all the work that goes into teaching that students don't otherwise get to see."
Amanda Friendshuh, Past Educators Rising Alaska President and Graduate, & Current Teacher!

Amanda Friendshuh, past EdRising participant, president and graduate, is pictured here in her classroom. After graduating high school in 2017, Amanda continued her goal of becoming a teacher and attended UAS, pursuing her teaching credentials. Photo courtesy of: Amanda Friendshuh.


"I entered a student teaching position at Soldotna Elementary starting in the Fall of 2019 which was in-person for 3 quarters of the year. I worked closely with my mentor teacher, Shaya Straw. We went virtual in March of 2020 right after I completed a rural practicum in Kotzebue. I was interviewed and hired for Chapman school in April of 2020. I graduated with a Bachelor of Arts in Elementary Education that Spring on May 3rd, 2020."

"I am now in my third year of teaching at Anchor Point and I am still teaching third grade. I signed my contract to be back at Chapman for my fourth year when I will be tenured. I have been teaching the siblings of students that I already taught!"

"My classroom is the host of the Alaska Department of Fish & Game "Salmon in the Classroom" program for my school. Most of our subjects throughout the day (Language Arts, Math, Science, Social Studies) feature Alaska Studies topics. We have just recently wrapped up our study of the Iditarod, we are close to finishing our Raven stories projects, and we have just conducted an oil spill experiment on March 24th, the anniversary of the Exxon Valdez oil spill."

Somehow, Amanda has found time in her busy schedule to continue her studies. In May of 2024, she will graduate from UAS with her Masters as a Reading Specialist.

Additionally, Amanda fills her summers with teaching-related work: she's a Youth Program Ranger for the Bureau of Land Management Glennallen Field Office.

We look forward to seeing all of Amanda's future endeavors and accomplishments!
Meet Caprice Daemon, Educators Rising Graduate, & Future Teacher!
Caprice Damon, EdRising participant 2018-22, placed 2nd at this years' nationals in Creative Lecture-Varsity. She also placed in the top three in previous years' national competitions . Photo: Christel Mozalevskiy.
"Hello! My name is Caprice Damon, and I participated in Educators Rising Alaska for all four years of high school. I grew up in Wasilla, Alaska, and attended Joe Redington Sr. Jr/Sr High School (Go Huskies!). I was inspired to become a teacher and enter the field of education because I have a passion to help others, and leave a positive impact with what I do."
"I participated in both the pathway and after school chapter of Educators Rising. In the pathway, I had the opportunity to volunteer in kindergarten and first grade classrooms, and help with other activities at a nearby elementary school. For the after school chapter, I created and presented a TED Talk through the Creative Lecture competition each year, at both the state and national levels."
"Educators Rising helped me realize that I had a voice to advocate for topics that are important to me, such as mental health and school safety. I found that my passion is in teaching, and working in schools, and I am so excited to have a classroom of my own one day. I am currently attending college at the University of Portland, where I am studying Elementary Education with a 3+1 Accelerated Pathway to get my master's degree in 4 years. I have the amazing opportunity to participate in weekly field experience, where I currently get to assist and observe in a first grade classroom! I would love to come back to Alaska one day and teach, and will just have to wait and see what the next four years hold!"
Meet Donnie Arnone, Past Educators Rising Alaska Participant and Graduate, & Future Mat-Su Teacher!
Donnie Arnone, EdRising participant 2020-22, placed 2nd and 3rd place for Public Speaking at EdRising Nationals, 2021 and 2022. While he is working toward his BS in K-8 Education through Chadron State College Online, he is also working for the Mat-Su District as a parapro at a local elementary school. Photo Courtesy of Donnie Arnone.
"As I was growing up I didn't really know what I wanted to do in life. When signing up for high school classes I saw a class about teaching, and I thought it might be interesting so I signed up! Little did I know, this class also had an after-school club that was geared toward competing in various events with EdRising Alaska. At the EdRising State Conference, I competed in Public Speaking each time, and placed second both years. And the two times I competed at nationals I placed in the top 3! This was a huge boost to my confidence and to my future career path. While taking this class and participating in the after-school chapter I fell in love with teaching. It was something that I never thought of doing until taking that class and competing in teaching related events."
"After graduation I got accepted into the Mat-Su Borough School District Teacher Scholarship Student Loan Pilot Program, and am currently taking courses online at Chadron State College, which is out of Nebraska, working towards my Bachelors of Science in Elementary Education K-8. This program will help me pay back my student loans in full after working 5 years as a teacher within the Mat-Su Borough School District. And, even better, they gave me a part-time job at a local school. Now I am working as a parapro at an elementary school alongside teachers and other educators. This gives me a leg-up on learning about teaching students in the classroom! I truly am grateful for the experiences that EdRising Alaska has presented me with, and I don't know what I would be doing now if I had not joined the classes and competed in the EdRising competitions."
Meet Marjorie Baker, Educators Rising Alaska Graduate, & Kotzebue Teacher!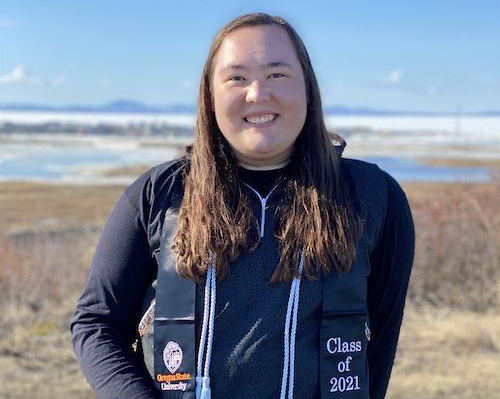 Marjorie Baker, EdRising participant 2015-17 (and in the previous FEA program for 2013-14), placed in EdRising Nationals in 2017. She graduated from Oregon State University in 2021, and was immediately hired in her hometown of Kotzebue as a 1st grade teacher at June Nelson Atautchikun Iñuuniałikun Elementary School. This is her second year of teaching. Photo: June Nelson Elementary School.
"I was born and raised in Kotzebue, AK. I always knew I wanted to be a teacher when I was growing up. Educator's Rising helped me to make that dream a reality. While I was in high school, I was able to volunteer in elementary school classrooms and learn from many amazing teachers."
"I attended Oregon State University and graduated with a bachelor's degree in Human Development and Family Sciences and a bachelor's degree in Education. Now I am back in Kotzebue for my second year of teaching first grade. I love being able to teach in the school I attended as a child! I am excited to now be working with Educator's Rising as a teacher leader with high school students volunteering and observing in my classroom."
Are YOU an EdRising graduate who's on the path toward a career in education? Or do you know someone who is? We'd love to highlight that story!