...to become Alaska's future educators
Student Officer applications are now being accepted for the 2021 - 2022 school year! Visit our new STUDENT PAGE to apply. Deadline is April 26th!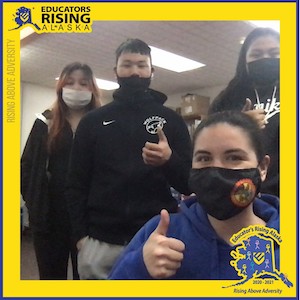 Unalakleet students and their teacher leader, Giaana Peterson made use of the Alaska Photobooth Company's online photo booth during the Statewide Conference.
Look for more photo booth photos on our NEW & EVENTS page! Thank you to the Alaska Photobooth Company!
The virtual conference was a success! In spite of being on Zoom across the state, we managed to connect, hold competitions, have amazing guest speakers and have fun, too! Thank you to ALL who participated.
If you want to thumb through our 2021 Conference packet to see all of what happened, you can have a look at it here. Links to Zoom meetings have been deactivated, as have other links.
Announcements about Nationals will appear here soon.

Dual Enrollment available for the 2020-21 school year
Courses 1 and 2 of the Educators Rising program have been aligned to UAS ED S122. The syllabus demonstrates the alignment for the Dual Enrollment credit available by completion of both high school courses. A Course Pacing Guide is available to teacher leaders for recommended pacing and will serve as a reference for mandatory units and assessments aligned with the UAS course objectives. For the guides and necessary agreements, please download the Dual Enrollment documents folder. For the curriculum, please request or log into the EdRising Alaska portal.