WHAT IS EDUCATORS RISING?
Educators Rising Alaska is a diverse, teacher and student-led grassroots movement that aims to inspire high school and college students to serve their communities by entering the field of education. School-based chapters are located in every U.S. state, where students practice the necessary skills to lead a classroom while adding student voice to State and National discussions around education.
OUR MISSION
We aim to foster excellence within the state of Alaska by supporting middle school through collegiate level students on their path to become Alaskan educators. Our purpose is to inspire students from across the state, creating a scaffold on which rural and urban students can be encouraged, nurturing their enthusiasm to become future educators, administrators, counselors, aides, and supporting staff.
START A CHAPTER IN YOUR SCHOOL!
Contact us
to learn how you can start a Chapter in your school.
Featured Educators Rising-AK Graduates
Meet Marjorie Baker, Past Educators Rising Alaska Student, Current Teacher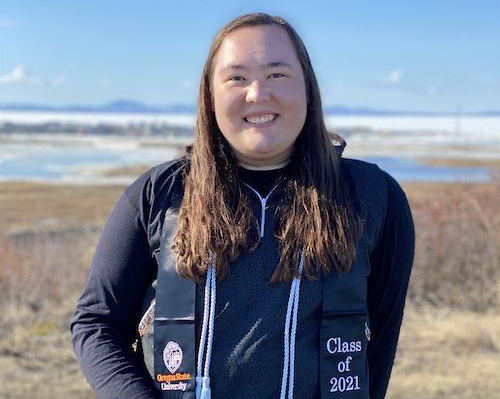 Marjorie Baker, EdRising participant 2015-17 (and in the previous FEA program for 2013-14), placed in EdRising Nationals in 2017. She graduated from Oregon State University in 2021, and was immediately hired in her hometown of Kotzebue as a 1st grade teacher at June Nelson Atautchikun Iñuuniałikun Elementary School. This is her second year of teaching. Photo: June Nelson Elementary School.
"I was born and raised in Kotzebue, AK. I always knew I wanted to be a teacher when I was growing up. Educator's Rising helped me to make that dream a reality. While I was in high school, I was able to volunteer in elementary school classrooms and learn from many amazing teachers."
"I attended Oregon State University and graduated with a bachelor's degree in Human Development and Family Sciences and a bachelor's degree in Education. Now I am back in Kotzebue for my second year of teaching first grade. I love being able to teach in the school I attended as a child! I am excited to now be working with Educator's Rising as a teacher leader with high school students volunteering and observing in my classroom."