Wien
Ada B. Wien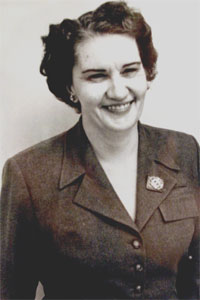 Name: Ada B. Wien
City: Fairbanks
District: 21
Occupation: Housewife, Secretary, Businesswoman
Born: July 1, 1907 - Nome, Alaska
Death: June, 1984 - Bellevue, Washington
Alaska Resident: 1907 - ? Convention Posts:
Member, Committee on Preamble and Bill of Rights
Member, Committee on Resources
Member, Advisory Committee on Committees
Education: Wilson's Business College, Seattle
Quote from the Constitutional Convention:
"I would just like to go on record as saying I do my own thinking."
-Delegate Ada Wien, Day 40 of the Constitutional Convention, in response to an objection by another delegate that she was being prompted on how to vote.