Stewart
Benjamin D. Stewart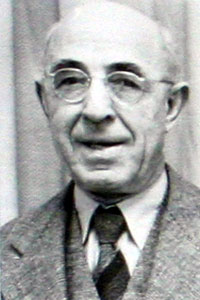 Name: Benjamin D. Stewart
City: Sitka
District: 6
Occupation: Mining Engineer
Born: October 31, 1878 - Missoula, Montana
Death: April 1976 - Sequim, Washington
Alaska Resident: 1910 - 1966
Convention Posts:
Member, Committee on Ordinances and Transitional Measures
Member, Committee on Resources
Education: University of Montana
Public Offices and Organizations:
Mayor, City of Juneau - 1916
Quote from the Constitutional Convention:
"The capital has been at Juneau for 50 years or thereabouts. There has been no difficulty with regard to having it as the capital; it has served well. I urge all of you to consider very, very carefully any move that will bring about an uncertainty as to where the capital is during the next five, ten, or fifteen years, and I would prefer very much myself to see it in the body of the constitution. The constitution can be amended; there are provisions for that. If, over a period of years during which the state is being formed and we are going through the initial stages, there is no reason why the constitution can't be changed after a period of years if it is shown and shown conclusively and compellingly that there is a very good reason which offsets those against it."
-Delegate B.D. Stewart, Day 65 of the Constitutional Convention, arguing for including Juneau as the state capital within the body of the state constitution. Instead, Juneau was declared the state capital in the transition clauses of the state constitution. Relocation of the state capital continues to be a bitter issue in Alaskan politics.