Johnson
Maurice T. Johnson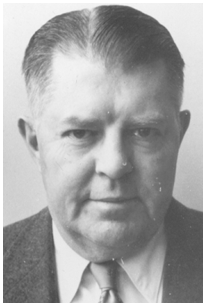 Name: Maurice T. Johnson
City: Fairbanks
District: 21
Occupation: Lawyer
Born: November 18, 1901 - Brainard, Minnesota
Death: June 17, 1972 - Fairbanks, Alaska
Burial Location: Unknown - Contact Creating Alaska with information
Alaska Resident: 1937-72
Convention Posts:
Member, Committee on Ordinances and Transitional Measures
Member, Committee on Style and Drafting
Education: University of North Dakota, John Marshall Law School Public Offices and Organizations:
Territorial House of Representatives - 1945-49
Mayor, City of Fairbanks - 1949-50
Member, Territorial Board of Road Commissioners - 1953-57
Further Information:
From the News Archives: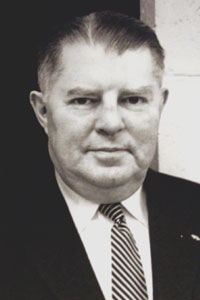 Quote from the Constitutional Convention:
"I am keenly disappointed, and was at the time that it happened, that the veto procedure was changed from the traditional two-house method to the method of using a joint session of the legislature. I have always felt that when the veto message was acted upon by each house separately, as I believe it should be, that it afforded an additional check and balance that very frequently was the only protection that a minority could have in a legislature which was over-balanced, one way or another, by one political party or the other.
Now, I understand fully the reason why many members in this assembly desire to dilute the strength of the Senate, and it stems from experience that they had in the last session of the legislature, but I daresay the time will come when they will be in the position of being in the minority and they will have lost, then, the chance of stemming the override of a veto in one house when they could not do it in a joint session. And it seems to me that that one little deviation from the traditional method of operation could well spell difficulty for those who some day may be in the minority, as some of us have found ourselves on many occasions. Now, Mr. Victor Rivers says that no one of us can have his way all the time. I certainly agree with that, and, from experience, I can say that I probably have had my way less in this Constitutional Convention than all the rest of the delegates put together. But I believe that we are here to write the best constitution possible, and I think the legislative article, by and large, is a fine piece of work... But I still feel that we have set up a rather paradoxical situation which may someday be to our regret, although we do have, or will have, methods of correcting that by way of amendment."
-Delegate Maurice T. Johnson, Day 65 of the Constitutional Convention, speaking in opposition to the proposed veto-override system for the Alaska Legislature. The constitution established the system, still in place today, by which the legislature meets in joint session to review the Governor's vetoes. A two-thirds vote of ALL legislators assembled is necessary to override, a three-quarters vote is necessary to override a veto dealing with an appropriation of funds.