Hilscher
Herbert Henry Hilscher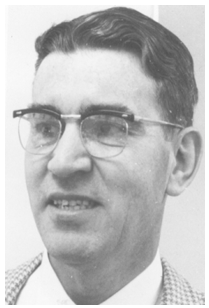 Name: Herbert Henry Hilscher
City: Anchorage
District: 15
Occupation: Author, Public Relations Consultant
Born: April 9, 1902 - Seattle, Washington
Death: April 1987 - Anchorage, Alaska
Burial Location: Ashes scattered at Nancy Lake, Willow, Alaska
Alaska Resident: 1944-87
Convention Posts:
Member, Committee on Ordinances and Transitional Measures
Quote from the Constitutional Convention:
"There has been no publicity on the Constitutional Convention on a national basis that we have heard of as yet, and there have been letters written to members of the Convention from friends in the states stating that they are interested in Alaska and the Constitutional Convention but unless they had heard from them they would not know that the Alaska Constitutional Convention was in existence. We have in this room representatives from 19 states and six foreign countries.
I should like to suggest, Mr. President, that before too long the President of this Convention request or arrange for a committee to possibly meet with the Statehood Committee for the purpose of working out a publicity and public relations campaign. I can see where a photograph taken right at work here and a story with it should go to every hometown paper or every place of origin. Now we have five from Minnesota. It might be pretty important to the passage of the Alaska statehood bill, if and when it is presented to Congress, that we have the support of the two senators and the congressmen from Minnesota. I can readily see where if one of our lady delegates who comes from Minnesota, if her picture appeared in the hometown paper, and there was quite a write-up, and the fact that she is the National Democratic Committeewoman from Alaska, it could create quite a bit of interest in her hometown. I also believe all of these should also be represented in their professional publications. I can see where photographs should go to the American Bar Association and to their publications, to the American Mining Journal. Mr. Harris is in the hotel business, there are a half-dozen hotel publications which would be very pleased to have a picture of Mr. Harris, all of which is in the nature of national publicity, to get the story out that Alaska is doing something about the constitution.
Something should also be done about a poster contest in the schools on "Ratification of the Constitution" or "Understand the Constitution". Then if and when the people of Alaska decide to ratify the constitution a definite method should be worked out for the delivery of the constitution to the President and to the Congress. We have an end product to sell and there is just as much salesmanship involved in selling statehood or selling our constitution as there is in a pair of shoes or real estate or any other product. Therefore, Mr. President, I feel it is quite incumbent upon us to be aware of this fact and to decide whether or not we are going to do something about it..."
-Delegate Herb Hilscher, Day 55 of the Constitutional Convention
Education: University of Washington
Public Offices and Organizations:
Member, Territorial Development Board
Obituary: Herbert Henry Hilscher
A memorial service for long-time Anchorage resident Herb Hilscher is scheduled for 2 p.m. Tuesday at All Saints' Episcopal Church, Eighth Avenue and F Street with the Rev. Norman Elliott officiating. Mr. Hilscher died April 20.
Honorary pallbearers will be Moe Kadish, Fred Machetanz, Edgar Paul Boyko, Dr. Francis Phillips, Robert Atwood, John Ratterman, Frank Reed, Elmer Rasmuson, Earl Jones, Jack Anderson and Judge James von der Heydt.
In lieu of flowers, the family suggests that donations be sent to the Herb Hilscher Memorial Fund, Anchorage Museum Association, 121 W. Seventh Ave., Anchorage, 99501.
The fund will establish a lecture series at the Museum of History and Art.
"Those were his three loves: Alaska, Alaskan history and Alaskan art," said his daughter, Hilary Hilscher. "We wanted his enthusiasm to inspire future generations, too."
Source: Anchorage Daily Times – April 27, 1987