Hellenthal
John S. Hellenthal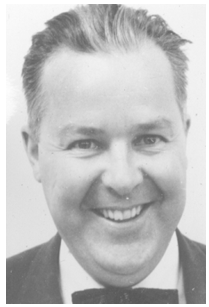 Name: John S. Hellenthal
City: Anchorage
District: 18
Occupation: Lawyer
Born: February 20, 1915 - Juneau
Death: February 5, 1989, Anchorage
Burial Location: Anchorage Memorial Park Cemetery
Alaska Resident: Lifelong
Convention Posts:
Chairman, Committee on Suffrage, Elections and Apportionment
Quote from the Constitutional Convention:
"One time in Girdwood, it was about five or six years ago, a fellow by the name of Bob Dorf had a saloon there. They were building the Whittier road. There were several hundred construction workers there. They were also building a railroad. Hundred is a modest estimate -- there were maybe a thousand or more. Dorf had the only saloon in Girdwood. Some competitors came along, and Dorf hired me and my partner to see to it that the census that was taken by his competitors in their petition for a liquor license was knocked out on the grounds that the census did not represent actual and bona fide residents of the Territory of Alaska. The construction workers had all signed it. They were all on the census and they in turn had signed the petition. The church people also joined with Mr. Dorf in financing the case, and in that respect it was a little unique because it shows how people sometimes line up on these problems of residence. Judge Dimond considered it carefully, and Judge Dimond ruled that all of the construction workers who had signed the petition and who had in turn been entered on the liquor census were not actual and bona fide residents of Alaska, although many of them had been in the Territory three and four years. Some of them had actually got divorces here. Let's not get confused -- the divorce residence requirement is still another thing. That reads, you must be "a resident and inhabitant" of the Territory of Alaska. So some of those people were not qualified voters, though they could get a divorce, they could doubtless have a hunting license, they could doubtless have met other residence requirements. But remember, the word "resident" is a word of variable meaning; it has shades of meaning; it is one of the most subtle words known to lawyers. This is what separates the men from the boys in the legal profession -- words like "resident". I might observe, too, that just merely picking up Webster's Dictionary and looking for the definition of the word "resident" will not solve any residence problems. If the practice of law were that simple, I would not have bothered to go to law school nor would any of the other lawyers in this room. "
-Delegate John S. Hellenthal, Day 66 of the Constitutional Convention, addressing the difficulties in defining residency and qualifications for voting.
Education: University of Michigan, Santa Clara University, Notre Dame School of Law
Public Offices and Organizations:
City Attorney, Anchorage - 1948-52
State House of Representatives - 1959-63
Chairman, Democratic Central Committee - 1960-61
Member, Legislative Council - 1963
Member, Western Interstate Commission on Higher Education (WICHE) - 1964
Other Information:
Obituary:
Attorney Hellenthal Practiced Here Nearly 50 Years
Anchorage attorney John Simon Hellenthal practiced law in Alaska for nearly half a century, and he looked forward to retirement after his 50th year in the field.
Mr. Hellenthal died Feb. 5, 1989, at Humana Hospital-Alaska, just a year short of his goal. He was 73.
Upon completion of law school in 1939, Mr. Hellenthal became a partner in Hellenthal, Hellenthal and Son at Anchorage. He was admitted to the Alaska Bar in 1940 and opened his general law practice in September of 1940.
From the beginning of his practice he was involved in events affecting Alaska and the people of the Territory. He was Anchorage city attorney from 1947 to 1952, a member of the Alaska Constitutional Convention in 1955 and served with the first and second Alaska State Legislatures. He authored articles on Alaska law which were published in the American Bar Association Journal in December 1958 and in the Alaska Law Journal of February 1965.
Born Feb. 20, 1915, in Juneau, he attended the University of Santa Clara from 1931 to 1933, when he received a Bachelor of Arts degree in economics. He continued his education at the University of Notre Dame and the University of Michigan Law School.
During World War II he served in the Army as captain and liaison officer with the Alien Enemy Internment Board at Elmendorf Air Force Base and in the infantry at the Aleutian Campaign. He was a member and chairman of the Alaska World War II Veterans Loan Board from 1946 to 1951.
He served as chairman of the Alaska Democratic Party from 1960 to 1961 and was campaign chairman for William E. Egan.
He has been a director of Reeve Aleutian Airway since 1947 and for about 12 years served on the Western Interstate Commission for Higher Education. He was a member of the American, Alaskan and Anchorage Bar Associations. He was also a member of the Judge Advocate Association and for over 50 years was a member of Pioneers of Alaska.
Mr. Hellenthal leaves his wife, LaRue of Anchorage; his daughter, Cathy Braund of Anchorage; two sons, Marc of Anchorage, and Steven of Houston, Texas, and eight grandchildren.
A Mass of Christian Burial is scheduled for 10 a.m. Friday at Holy Family Cathedral with the Rev. Martin Diaz, O.P., officiating. Visitation is 5-8 p.m. today at Evergreen Memorial Chapel and burial will be this spring in the Pioneer Section of the Anchorage Memorial Park Cemetery. Pallbearers will be Charles Herbert, Lu Liston, Frank Reed, Tom Melaney, Mike Keenan, and Dan Cuddy.
The family suggests that memorial contributions be directed to Catholic Social Services, 225 Cordova Street, Bldg. B, Anchorage , 99501, or Providence Cancer Therapy Center, 3200 Providence Dr., Anchorage, 99508.
Source: Anchorage Times – February 9, 1989