Emberg
Truman D. Emberg
Name: Truman D. Emberg
City: Dillingham
District: 17
Occupation: Fisherman
Born: November 23, 1909 - Proctor, Minnesota
Death: October, 1982 - Dillingham, Alaska
Burial Location: Wood River Cemetery - Dillingham, Alaska
Alaska Resident: 1935-82
Convention Posts:
Member, Committee on Resources
Member, Committee on Resolutions and Recommendations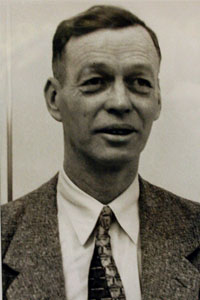 Quote from the Constitutional Convention:
"I have been shutting my eyes to it because I have had the feeling it is perhaps more than I could swallow now... But I will point out this: that in Bristol Bay it was these large fleets operated by these same corporations that are operating the large trap aggregates and in other areas that have led to the depletion of the fish. No one here has said that this trap abolition is going to be the sole answer, but we have to start somewhere on the problem of conservation of our fisheries, and that is the place to start. If we are silent on this matter, what if this Constitution doesn't go into effect for 10 or 15 or 20 years? I think this is the time to talk across these thousands of miles to Congress and tell them that as Alaskans we want fish traps abolished, and that is why I think in this Constitution, whether by ordinance or in the body, it is perfectly proper that we deal with it."
-Delegate Truman Emberg, Day 69 of the Constitutional Convention, discussing the proposed ordinance to outlaw the use of fish traps in Alaska waters.
Education: Hibbing Junior College, Minnesota
Public Offices and Organizations:
Board of Directors, Dillingham Public Utility District - 1950-51
Labor Representative, Employment Security Commission - 1955-59
Further Information:
Obituary: Truman Emberg
Dillingham — Truman Emberg, a member of Alaska's Constitu­ tional Convention in the 1950s and a signer of the constitution, died in his home in Dillingham on Friday.
The 72-year-old Emberg had been suffering from respiratory and heart ailments for some time.
A native of Duluth, Minn., Emberg came to Alaska in 1936 as part of the Mat-Su Valley agricultural relocation project. A year later he moved to Dillingham and spent the rest of his life as a commercial salmon fisherman in Bristol Bay.
Emberg held various appointive offices on fisheries management councils. At the time of his death, he was the manager of the Western Alaska Cooperative Marketing Association, a Dillingham-based fishermen's group.
Anchorage Times – October 3, 1978