Teacher Education at UA: Goals
Increase the number of graduating teachers with initial licensure and advanced licensure of teachers, school leaders, counselors, and other advanced licensure opportunities through existing education programs and existing general fund support
Communicate the breadth of existing education programs, including licensure and non-licensure, as a suite of options

provide a unified and coordinated view of program options across the three universities

Communicate clear student pathways for each program within the unified coordinated view
Empower a primary spokesperson, interface, and problem solver for key statewide education related entities (DEED, Superintendents Association, etc.)
Increase access and visibility of programs in Anchorage and at UAA; develop collaborative program pathways between UAA and UAF/UAS for initial licensure programs



Create a model and system that:

Benefits all three universities when enrollment/graduates are increasing
Prioritizes additional earned revenue (tuition) and new investment (state, gifts)
Ensures alignment for similar programs or provides an exception process that allows for distinctions of like programs
Defines roles, responsibilities and governance of the umbrella coordinating organization
The Alaska College of Education Consortium will:
Provide a single point of contact for external stakeholders through the liaison/coordinator
Allow each university to develop its academic plans for teacher education programs based on institutional strengths and regional demands
Provide a formal mechanism (the ACEC Committee) to facilitate inter-university coordination and communication to meet the goals
Put each School of Education on equal footing with an elevated presence at each university
Provide support for data collection, marketing and recruiting
Conform to NWCCU and CAEP accreditor standards and expectations
What we do: Fact sheet
Role of the Liaison/Coordinator
Serve as the single point of contact for the ACEC
Be proactive and form rapport with internal and external stakeholders including:

K-12 districts and programs
Alaska Department of Education and Early Development
Legislature
Board of Regents
Foundations
University Communications teams
Structure
Three separate Schools of Education, one at each university led by a director
The three directors and a faculty member from each university, along with system office representation will form the ACEC Committee. One of the SOE directors will chair the committee on a rotating basis
A liaison/coordinator position, reporting to the president or designee, will be a part of the ACEC Committee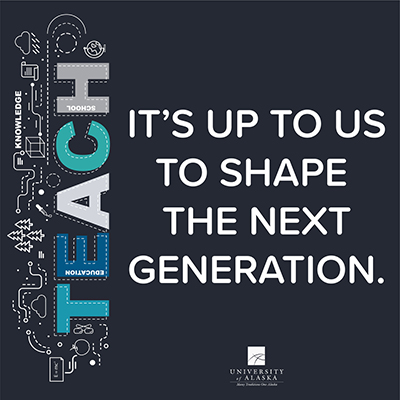 Teach
Alaska
University of Alaska 
Educational Programs:
Nationally Accredited &
State Approved
Alaska's teachers are helping to shape the future of our state. The University of Alaska is training the next generation of teachers.

Find an education program that matches your career goals at the University of Alaska.