Zoom provides high quality, easy to use video and audio conferencing capability at University of Alaska. Zoom allows the university community to host and join unlimited video conferences and calls from computers and mobile devices, offering the best video, audio and wireless screen-sharing experience across systems.
---
Use Zoom for:
Web, audio and video conferencing
Online meetings
Online collaboration
Screen sharing
Recording online meetings
---

Zoom Security
As COVID-19 has necessitated increased use of telecommuting solutions, there have been instances of public Zoom meetings getting hijacked, or "Zoombombed," by malicious actors.
What is "Zoombombing"?
A new form of trolling in which a participant uses Zoom's screen sharing feature to interrupt and disrupt meetings and classes. Learn more in this article from Inside Higher Ed
---
Tips for avoiding "Zoombombing"
Safeguard the Zoom meeting link - The link is an open invitation to join your meeting and should only be shared with your attendees.
Posting the Zoom link publicly like on Facebook is not a good idea! If you think your Zoom session needs to be open to the public, contact your local help desk to discuss options to fit the specific needs of your meeting.
Use the Zoom app - All UA Zoom users are advised to Download the latest version of Zoom or Update the Zoom client to the latest version
Always login to the Zoom app first - Before starting your meeting, make sure you are logged into the Zoom app or the alaska.zoom.us interface - this enables access to meeting controls.
Manage Security - Once you are in your Zoom session, use the Security icon along the bottom of the session window to access controls to manage screen sharing, the waiting room or to lock the meeting.


Zoom hosts can access the Security meeting control, located in the center lower control bar within any meeting. Here the host can 'Enable waiting room' and 'Remove Participants', actions that will greatly deter Zoombombing behavior.
Zoom has posted a detailed article with many tips to avoid this problem.
---
Protecting your Meetings
The following in-meeting security capabilities are available to the meeting host:
Meetings are encrypted by default
Create Waiting Rooms for attendees
Require host to be present before meeting starts
Expel a participant or all participants
Lock a meeting
Screen share watermarks
Enable/disable a participant or all participants to record
Temporary pause screen-sharing when a new window is opened
Password protect a meeting
Only allow individuals with a given e-mail domain to join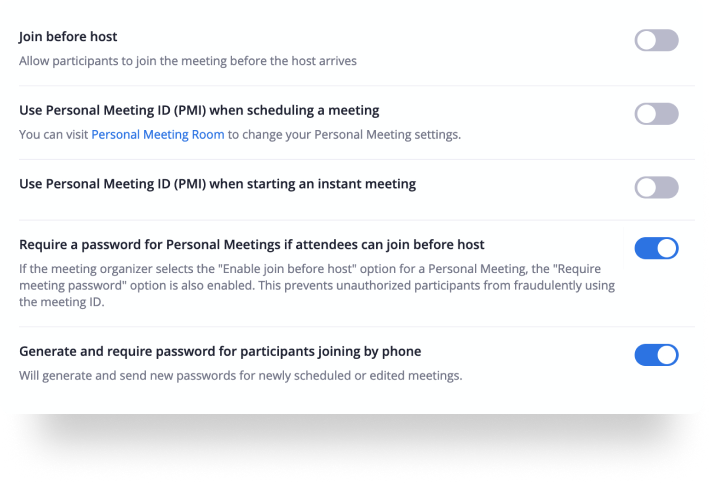 Learn how you can protect your data, and privacy using Zoom's security features.
Optimize your online experience


---
Required minimum bandwidth for meetings:
For screen sharing only (no video thumbnail): 0.05 - 0.075 Mbps
For screen sharing with video thumbnail: 0.05-0.15 Mbps
For audio VoiP: 0.06-0.08 Mbps
For Zoom Phone: 0.06-0.1 Mbps
---
Video Conferencing Etiquette
Tips to make your video conferences more effective and efficient

Zoom Resources


Basic Guides
Signing-in to UA Zoom via:
Advanced Guides