Southcentral Test Case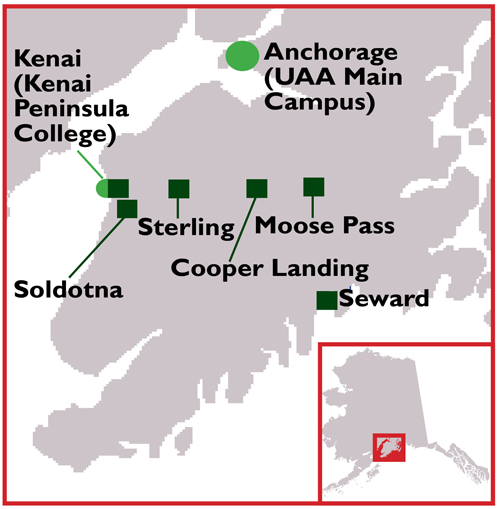 The Kenai Peninsula in Southcentral Alaska (map) is characterized by its proximity and road connection to Anchorage - Alaska's largest city - and by its geographic, ecological, cultural, and economic diversity. The Kenai is subject to multiple, interacting drivers of change, creating a complex or "messy" social-ecological system (SES). These drivers include global and regional temperature and precipitation changes; salmon population fluctuations; a recent tourism downturn; recreational pressure from Anchorage; shrinking wetlands and successional change; and forest fire dynamics.
The Kenai River watershed, the major river system on the Kenai Peninsula, provides a clear and constrained test case of interactive drivers of change and their effects on communities – specifically, a series of six settlements on the Alaska road system. The watershed provides a central means of connectivity and interaction within social-ecological systems. For example, rivers and lakes are conduits for nutrient and sediment transfer, sustain the aquatic-terrestrial food web, support fisheries, serve as foci for cultural, recreational, and spiritual activities, and influence people's values. Salmon is a critical linkage among ecosystems, food webs, and fish production in the watershed and will be a focus of the test case.
The Southcentral Test Case examined interactive drivers and patterns of change in 'messy' SES, the effects of these interactions, and the factors contributing to community response and adaptation in the communities of Kenai, Soldotna, Sterling, Cooper Landing, Moose Pass, and Seward. Primary changes in river hydrology include discharge, water temperature, and sedimentation, while landcover changes include urbanization, resource extraction infrastructure, drying wetlands, and forest fires. Test case research objectives were to:
Understand how hydrological

and landscape change affect fluvial dynamics, water quality and salmon populations in the Kenai River

watershed.

Understand

the consequences of these changes on the use and

values

of salmon fisheries

for communities

in the

watershed.

Evaluate the capacity

of Kenai River communities to

perceive

, project and respond to anticipated

change.
Test case researchers deployed sensor arrays in three sub-watersheds of the Kenai River, logged water chemistry and stage height data, and created rating curves to translate stage heights to discharge. They built hydrologic models for three instrumented streams, enabling researchers to forecast changes in hydrologic regime associated with downscaled climate projections. Researchers tracked the growth and diet of juvenile salmon at three sites in each of three instrumented sub-watersheds and monitored air and water temperatures, enabling researchers to link stream temperatures to climate projections and to predict salmon growth responses.
Researchers used paleolimnological analyses to reconstruct 3,700 years of sockeye salmon runs to Upper Russian Lake, showing climate-driven fluctuations in abundance synchronous with regional sockeye populations. This helped to predict long-term trends in sockeye productivity. Another researcher analyzed flooding during egg incubation as a potential driver of recent Chinook salmon declines and synthesized climate and landscape change data with salmon productivity and future biophysical scenarios.
The test case integrated its results through semi-structured interviews with resource managers and fishing guides and stakeholder-driven scenario workshops, a project called "Salmon 2050." Workshop attendees hailed from a number of Kenai organizations and worked together with researchers to craft five different scenarios of the future of the Kenai.
Research by the test case's Leadership Team and participating researchers resulted in multiple peer-reviewed publications, including a thorough synthesis of test case research featured in the November 2017 issue of Fisheries.
Research and Outreach Highlights